I was back in Davao for six weeks, the first time since the pandemic broke out, mainly to reunite with my wife and look after her before, during, and after a major operation. My arrival coincided with a change in leadership in the Philippines, and in the middle of a debilitating oil price hike that will likely trigger inflation and stretch every citizen's hard-earned peso's buying power slide even further.
Within these weeks, I tried to assimilate to the things I am accustomed to, like the hot and humid weather, and my craving for Davao's lanzones and durian. But there are also notable observations other Filipino travelers returning after a long period might share.
Changes in the Philippine currency
After a long while, I finally acknowledged having a problem with my vision which forced me to quit as a church lector and finally get reading glasses —  something that has become an indispensable companion when reading notes during our choir services.
Upon my short layover in Manila, I grabbed a two-piece Chicken Joy at a Jollibee branch near the NAIA Terminal 2, and received an unfamiliar set of Philippine coins as change. It appears that the one-peso coin has shrunk and the five-peso denomination took over its former size. In addition to that, there's now a 20-peso coin. Though it was introduced in 2019, during my last prior visit, it's the first time I got hold of the coin. Its bronze-nickel composition intended to make the denomination last longer (15 to 20 years) than the overused paper bill version, whose useful life was estimated to last only one year.
Without my glasses, it was quite an effort to count my change in a poorly-lit, alfresco stall.
In light of the Duterte-Marcos transition in government leadership, a handful of netizens have brought up again the issue of replacing certain personalities that appear on banknotes, even as others have debated the introduction of polymer P1000 bills, with some having comprehension problems around the idea of whether folding these bills will render them unusable.
The @BangkoSentral clarifies that the ₱1000 polymer bills can be stored in bifold wallets https://t.co/UtgvztMSK4 pic.twitter.com/zmloMIkCea

— CNN Philippines (@cnnphilippines) July 12, 2022
I've folded Australian dollar bills and they are perfectly acceptable as legal tender, though their use has been significantly curtailed with the idea of paying through EFTPOS and PayPal becoming more popular.
Did the inflation problem also shrink the coins as they depreciate in value?
Same old internet speed
Two-thirds of my visit to the Philippines has been devoted to an extended Work From Home arrangement by Resolution Digital, my employer, as part of its Reso Reunite program. It offers to extend a visit for holidays with an equivalent time to work remotely.
After concluding my carer's leave at the hospital for ten days to attend to my wife's needs, including follow-up lab checkups,  billing, and other requests, we headed home and I was set to transition back to work in the early morning shift.
As I set up my lonesome laptop on a makeshift dining table, I was confronted by an old nemesis: Internet connection disruption. My wife signed up prior for a decent internet plan from the country's most well-known telecom network to handle my network requirements.
The provider is famous for overpromising — using jargon in its ads and sometimes paying celebrities to help convince them they are worth a try — but still falls short of delivering a reliable service.
My connection conked out early in the morning Sydney time, and I waited for three hours before conceding it was not worth a wait further. I went to my mom's house only to be greeted with the same problem (it turns out, they subscribed to the same network). It turns out that the disruption affected a large portion of the city as my wife's friends shared their network disconnection frustrations over social media.
Thankfully, my sister provided an alternative for me to connect at her school's network and I managed to start working five hours later. There's no question this network's speed is fast; the only thing I was complaining about was the apparent lack of commitment to providing reliable Internet service.
In the age of homeschooling and work-from-home, I presume an upgrade in its infrastructure or pool of technicians is a better use of budget than overpromoting them on tarpaulin banners, sports team sponsorships, and TV commercials.
I wonder if the National Telecommunications Commission would penalize these providers for every hour of unfixed network disruption or compel them to compensate customers who are inconvenienced whether from watching streaming videos or hours of lost work productivity through the discounted monthly bills. If there was a source of inspiration, when Sydney transport workers staged an industrial action that paralyzed train and bus services, the NSW government granted a week's worth of free travel to everyone with a valid card payment.
Ma'am/sir is the way to address everyone
Ma'am/sir used to be the de facto salutation many department stores and fast food attendants greet you when you arrive at their premises. But I observe this has been respectfully extended to everyone.
During my confinement as a hospital watcher, I was more comfortable calling my fellow carers 'ma'am' than 'miss' or 'sis'. That became a habit when I ask questions: street directions from a security guard 'Sir, asa man ang opisina sa POEA?' or fellow homeowner in the neighborhood 'sir, diri ba dapat magbayad ug tubig?'.
Not everyone might be comfortable receiving the address as mam or sir, as it was traditionally reserved for people in authority such as supervisors at work, teachers, or those knighted in Britain. But I like the way it's used as a sign of respectfully addressing any stranger you meet along the way.
Whether it's the fishmonger who rounds up the neighborhood with fresh lapu-lapu and isda sa bato at 7 in the morning, or Kuya Eddie, a government employee who lives next door, I've become accustomed to calling them with such honorary title, long removed from the days when I used to deride the scripted "good morning Mam/Sir, welcome to Jollibee" greetings those young, energetic girls.
New, yet old way of life
A lot has changed since I left barangay Mintal. What used to be our neighborhood steelwork is now a Petron gasoline station. There's a branch of the Bank of the Philippine Islands. On its fringes is the first Vista Mall in Mindanao. Heck, there's already a fully functional digital traffic light system to regulate the flow of jeepneys, pedicabs, and pedestrians.
Yet, sadly, despite its forward march to progress and development, old habits die hard. This is often manifested on the road. Motorists swerving the multiple lanes, drivers pulling over the street to relieve themselves, or in the case of a woman fixated on her mobile phone rather than on the road — peks man, I saw her driving, or should I say trying to commit suicide, on F Torres Street with one hand on the wheel and the phone covering her peripheral vision.
There's lack of discipline, but that's the way of life. Not that I was shocked; I am used to the observation.  I just sighed in resignation that it'll take more time for us to get to where we want to be.
Every time I take the front seat of a jeepney ride home — my preferred transport to cut costs — the driver often reminds me to wear the rudimentary seatbelt. In most cases, I see it as a token accessory aimed to show a rider is compliant with the law more than actually protecting the passenger.
Mask-wearing is part of the New Normal
Coming from a place that used to lock its borders and now conveniently letting its people coexist with the virus, I am amazed by how Dabawenyos adapt and thrive with masks worn on a daily basis. From young kids accompanying their parents to senior citizens, mask-wearing has become a habit in an effort to keep COVID-19 infection. From the moment my One Health Pass was verified by health authorities at Ninoy Aquino International Airport to my arrival in Davao, I see a consistent observation.
I've always disliked wearing a mask from a comfort perspective, but since I am also keeping myself free from any source of infection as I stay close to my wife, wearing one has never been more critical. And as I look at everyone else laboring through the day in sweaty, uncomfortable conditions, who am I to complain?
I was told there were penalties for not wearing a mask, and those caught were fined P500. But as the days pass by, wearing a mask was not only meant to avoid getting fined, but it also helped protect the wearer from dust, smoke, and pollution that may cause other respiratory problems. Doing so helps us minimize infections and keep COVID-19 cases at bay. If there's anything I observe about looking at people with face masks, I find it harder to recognize them.
Friends and family stay together
I joined a family gathering as a long-delayed celebration of my brother and sister-in-law's wedding anniversary. Although it was a little too brief for my liking, we still managed to do a bit of catch-up on each other's lives.
Growing up I wasn't so close to my siblings but now I feel relieved that I don't feel isolated despite being away for a long time.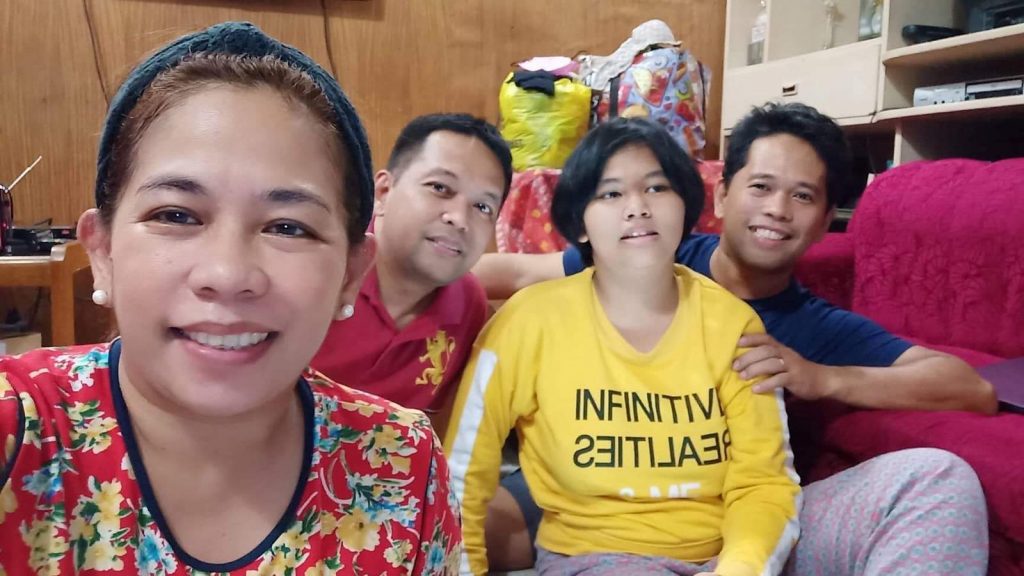 Celebrating Odeth's birthday was also a long overdue reunion of sorts for boys and girls who first knew each other in kindergarten.
These are the same people who helped me remotely in many ways — Odeth helping arrange dialysis sessions for my wife at Southern Philippines Medical Centre at the height of her COVID isolation in 2020, Fe asking her sister Leah to assist in food arrangements in the hospital, Evangeline helping arrange financial matters, and Kapitan Rey's ambulance arrangement for my mother, and other forms of labor of love.
I've been blessed with such good friends, and for them to gather when I am around (of course not to steal Odeth's thunder), is a testament to the strong foundation of friendship we carry along for a lifetime.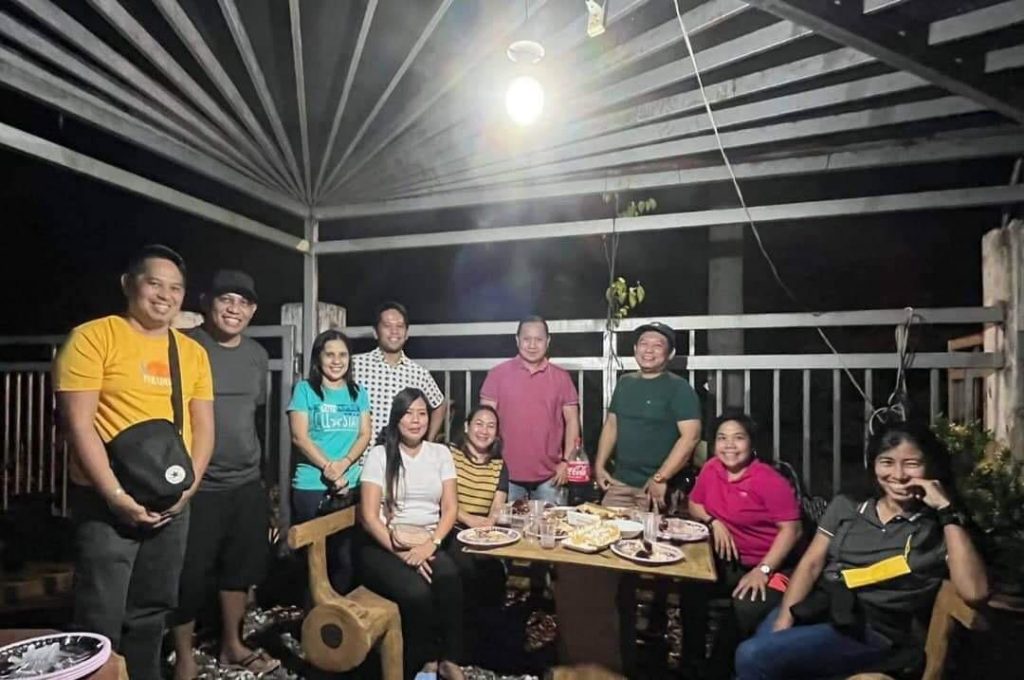 I wish it was a longer stay so I can eat more lanzones and durian.
Comments