September has passed by so quickly. Our Port Stephens trip at the beginning of the month was still a vivid memory. Thankfully, the month also coincided with Steptember, which I am joining for the first time. The event aims to raise funds for research, therapy, and services for people living with cerebral palsy. It requires participants and teams to commit to at least 10,000 steps a day.
Australia is blessed with a vast landscape that even if a huge portion of the world's sixth-largest country is a desert, the rest of it is covered with extremely diverse geographic features. There are snow-capped mountains, grasslands, mountain ranges, and tropical and temperate forests that offer a variety of activities to locals. So it's possible to do skiing, riding the sand dunes, snorkel or scuba dive, penetrate deep forests, or enjoy the long drives without leaving the country.
Thus, it's not a wonder the Australian outdoors is playing its role in raising funds for worthy causes. There's Melanoma March in Wollongong, Sydney, and Central Coast supporting melanoma research, the popular City2Surf run from Hyde Park to Bondi Beach to raise funds for various charities, and the Oxfam Trailwalker race that covers 100km to support the local arm of Oxfam and fight poverty. Plus, dozens more similar outdoor activities tied in with charities. If people experience that donor fatigue, these activities might mitigate that phenomenon. After all, you'll literally find fun in fundraising, and Aussies are known for their love affair with fitness and great outdoors.
Resolution Digital Australia has encouraged employees to form teams of four and chart our plan of attack to generate as many steps as possible. The Activations team led by Alex Wollacot has advertised vacancy for one more member through email. After consulting our SEO team about forming a separate team that was met with hesitation, I took the Activations offer. Agnes Szlahotka and Priscilla Sung, both of whom sit on the other desk next to ours in the PHD office, rounded up the team now known as 2 Steps Forwards.
It's ironic that since the work from the home arrangement was initiated in March, I recorded more daily steps than when I make my daily routine to work — 1.6 kilometers from Wynyard bus stop to Pyrmont and back. Sans the daily commute, I woke up early, go for walk or short jog around Macquarie University right before I log to start the day's work. I was keen to continue the trend and, thankfully, the Steptember came along, creating more motivation and justification of walking early in the morning, and late at night.
At the start of the month, it seemed like the team was content at reaching the daily target of 10K steps. It didn't help when the Steptember app initially encountered glitches and unable to record steps linked from my Apple Health mobile app. But as the leaderboards began to reveal that we're within a striking distance from the early leaders, the 2 Steps Forwards team started to get more strategic. Each of us was autonomous most of the time, doing our own initiative at a pace we're comfortable with. But each of us also committed we will not "cheat" and stick with recording steps via walks or runs; no cycling, yoga, or other physical activities that are also eligible for recording at the Steptember app.
In the middle of the month, the HR team posted an update by email and it looked like we're in contention by the third week of the event. That gave enough motivation to turbocharge the daily target to 30,000 steps.
From then on, Steptember brought me to places like Katoomba, Parramatta, Manly, and even Seven Bridges Walk a month ahead of the official schedule. With a handy playlist on repeat, every step is a rhythm to the beat rather than a dreaded stride to nowhere.
While the team gathered for a Spit Bridge to Manly get together, most of the journeys I did was done in solitude.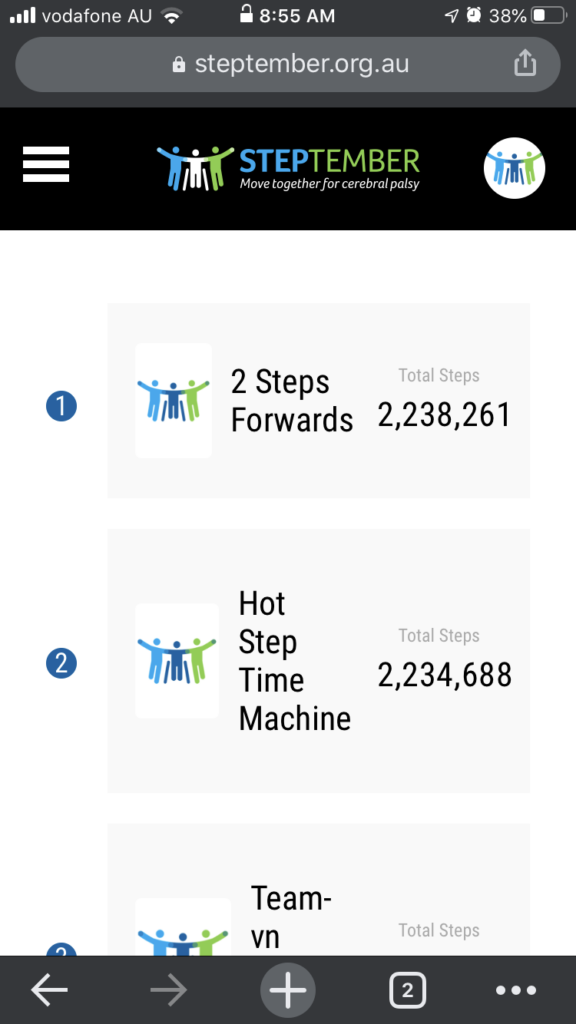 During the course of the event, I noticed the following:
It's easy to cheat on your step count
In the spirit of 'Step' from our Steptember playbook, team 2 Steps Forwards did not include other physical activities that can also be logged with step equivalents such as swimming, cycling, horse riding, or aerobics. While I won't count these activities as cheating, but rather a grey area in the rulebook, it is possible to log in to the raw number of steps you took. If you feel lazy and enter 12,000 steps, that's possible.
Although that adds to the total tally, it doesn't do any good besides the vanity number such as leaderboard ranking. At the end of the day, you can't pretend to be fit just by showing a certain level of accomplishment if you're not doing any effort.
Your body adjusts to the daily grind
In the beginning, making the 10,000 steps a day looked daunting, especially if you're not used to monitoring them. But as you go along, motivated by health targets (better sleep, lose weight, or improved metabolism) or some bragging rights as you aim to maintain a presence in the leaderboard, there's that drive to go out and make things happen. Using health apps such as Strava or Fitbit that compare your performance also provides inspiration to get better in terms of time or distance.
It helps that Steptember is held in the spring of the Southern Hemisphere which means the sunrise starts earlier, and you'll get more time to accomplish things like covering longer distances.
You can't rely on Google Maps all the time
I decided to go to Parramatta Lake from home via Carlingford in the penultimate days of Steptember. As I made an approach towards my destination, it looked like I was stuck in a private property by the looks of the surroundings. Soon as I noticed the mistake, I made sure I was in contact with somebody before I get called out for trespassing. It turns out that I was inside the premises of King's School, a prestigious boys' institution in the area.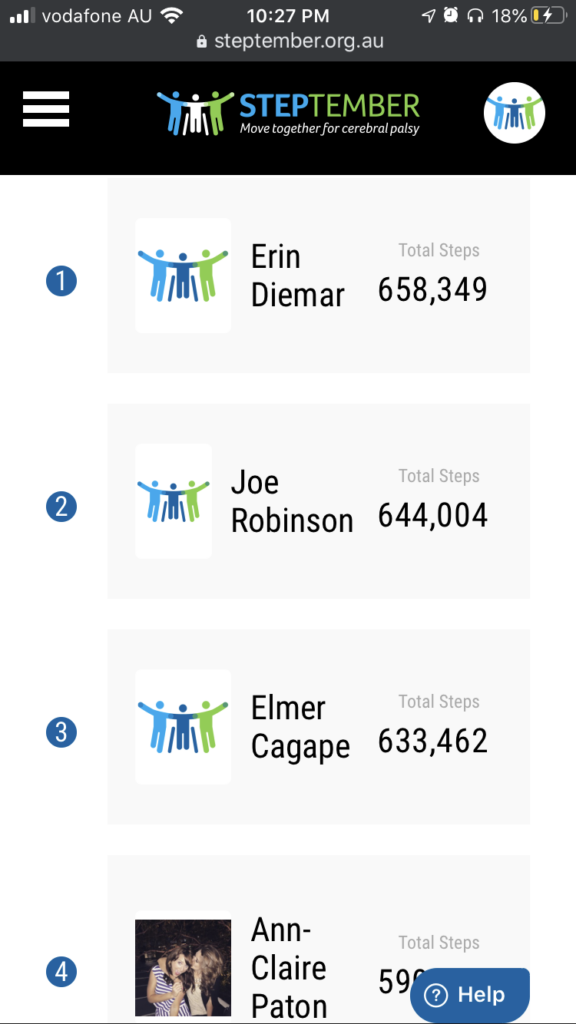 Thankfully, the man I met was the groundskeeper and didn't seem surprised a wandering fellow strayed across the property; he said several other adventurers get drawn to the area while aiming for the same lake. He pointed me towards a hole in the middle of a cyclone fence towards the western end of the field and wished me luck.
Steptember ended on the 28th of September. Despite our best efforts and brief lead, we couldn't catch the leading team Hot Step Time Machine. It turns out that among the top five individual finishers, the champion, runner-up, and the fifth placer belonged to the winning team, while Agnes (4th) and me rounded-up the rest. Our team also had a relatively decent contribution to the fundraising effort.
Overall, it was a great experience for a first-timer and a traditionally non-athletic person like me. I hope to join the 2021 season with the same team equipped with a better approach to winning the competition.
Next up, organise the 7 Bridges Walk in October with Himig Sandiwa choir group, after finishing a trial run during Steptember season.
Comments