There's been a lull in our choir activities for the past several months. Coronavirus has altered people's lifestyles, and our role as choir members at Our Lady of Dolours Parish in Chatswood wasn't immune to it. The group missed not only the regular service held during the first and last Sunday of every month, but also the scheduled practices every Tuesdays.
To create some sense of semblance, Giselle Goloy organized a Zoom group chat whose schedule coincided with our Tuesday practice. At the start, it was lively and animated. But later,
the scheduled conversation soon lost its allure, and I found myself joining the channel alone wandering in the virtual room on later sessions, as others have other commitments and unable to attend.
Sometimes, Giselle would send us a few songs notes to individually record, and she'll mix them later. And that's as far as we can collaborate, piecing each recording with the rest of the submissions.
The group has been organizing outings in the past, I was told. Since becoming a Himig Sandiwa member in October 2019, I've joined a few of those outdoor adventures. But the 2019 bush fire season seemed like a harbinger of doom for road trips, campings, and everything outdoor as air quality dipped, and hazards of the conflagration were high. It was a typical topic of conversation our group talked over coffee at Elbow Room after Simbang Gabi masses before my Christmas vacation.
Then 2020 came.
My first summer in Australia seemed like what I expected — a streak of heatwaves and tales of drivers grimacing upon touching red-hot steering wheels on cars parked under the sun. But I can tell that the bush fire was worse than in past years. The ordinarily blue skies were interrupted with fumes, and breathing has become a challenge to those with respiratory problems.
And a particular virus strain called novel coronavirus started to appear in the news. When I was in Hong Kong during New Year's eve, I saw more people wear face masks than I used to. I guess some of them were those involved in anti-government protests assembled next to my hotel in Mong Kok. But others have worn masks as a precaution against the virus that has reincarnated and made frequent visits to Hong Kong — under names such as SARS, avian flu, and so on.
Back in the Land Down Under, Himig Sandiwa organized a beach walk from Taronga Zoo to Balmoral Beach. But the weather forecast was hot, and Joy Vega suggested the group change its plans and make it a beach picnic instead, to which the group nodded virtually over Messenger chat. My wife has been scheduled to return the following month, so any outdoor activity I was invited to join comes as a piece of welcome news.
As a newcomer, I tried to blend in with the conversations, jokes, and a bit more introduction of myself to my fellow choir members, whose de-facto outdoor group Happy Trails has explored New South Wales, the entire Australian landscape, and beyond.
In addition to the shock reception about Kobe Bryant's death in a helicopter crash, part of the Balmoral beach picnic chatter re-echoed the concerns raised at pre-practice sessions church: the emerging coronavirus threat. It was a fine Australia Day holiday, but the bushfires, the volcano eruption in the Philippines, and the death of prominent people magnified what could be a long year filled with catastrophes. At the time, we did not realize there was an even more significant threat looming that describing what we observed in the past sentence as a catastrophe would be an understatement.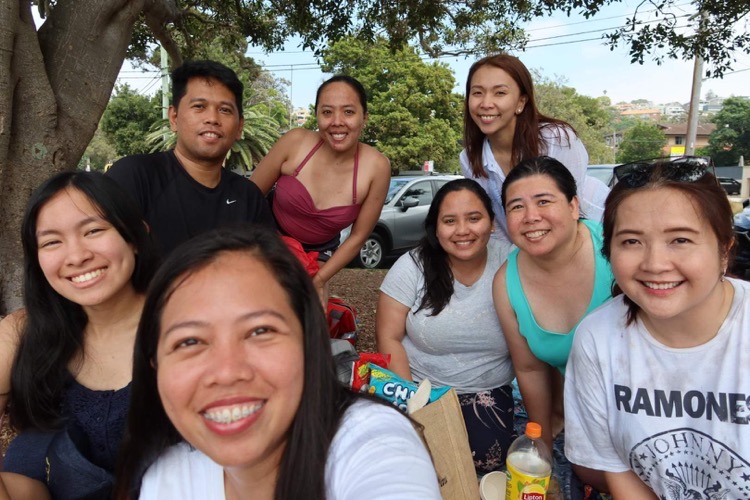 In March, while most of us were figuratively battered with anxiety-inducing news of lockdowns, looming business closures, and job losses, I also had to deal with a personal ordeal. My wife had to go back to the Philippines the day before lockdowns travel restrictions to get immediate care for her medical condition.
No daily commutes to the office. No Sunday masses at churches. No choir practices. I struggled for a while, as my mind also wondered as to how my wife managed to adjust to her ailment as the world confronts a newly-proclaimed pandemic that led to the drastic scaling down of travel freedoms were in place.
I've been practically isolated physically and emotionally. Like many others, our office organization also implemented a remote working arrangement that helped minimize the transmission of a virus that has no vaccine yet.
I used to dislike working at home because I had no desk and a comfy chair to use. But this time, I had to make it happen because it's the only choice I had. And once the new desk arrived, thanks to the heavy lifting of a good friend Oliver Dofredo, I thrived working at home that I'd prefer it over my commute to the office desk.
Six months seemed like an eternity as we got acquainted with the new normal in the life of isolation and got to know terms that compete for a word of the year: social distancing, covidiot, quaranteams, and wfh. I discovered the joy of running and bushwalking, learned to exploit what Angeli's kitchen has to offer, and transformed the meals I prepare for myself.
Thankfully, after my failed attempt to gather the group to a short hike at Balls Head in Waverton, Rollie Openiano pushed through the plan to try the Tomaree Trail at Port Stephens. But since it's a 2 1/2 hour drive, an idea floated said it's worth doing it overnight to give the drivers, Giselle, Rollie, and Olivia Villanueva, ample rest. The group can also explore nearby attractions and activities.
As this will be the first overnight activity with the group, I was filled with excitement, especially knowing everyone in the group. There are no awkward introductions and forgetting names. With more flexibility in our schedule, I managed to make the trip ahead on a Friday night.
Before the trip, I asked Giselle and Charisse Arpafo what's the breakfast arrangement. Knowing that if it's Airbnb accommodation, there should be cooking appliances and kitchen utensils. Also, as the area is a bit remote, I'd imagine the inconvenience of everyone rushing to use the bathroom, dress up and drive to the nearest Hungry Jack's. I reckon some members of the group would be craving for danggit, a dried fish delicacy from Cebu, and a piece of fried turon each. But since there was no confirmation this is happening, I assume nobody's prepping for breakfast, and everyone will be fine dining out.
I also asked Charisse to bring her guitar so we could do jamming as entertainment on top of the card game I borrowed from my colleague Emma Nicolls. The guitar at home, which Jonilie Echavez lent me, doesn't have a case, so it's a risk to place it at the trunk at Giselle's car. Liv also offered to load the guitar on her SUV but backed off when she learned it doesn't come with a protective case.
I finally located the egg tart shop in Chatswood. After confusing direction by Google Maps left me wandering like a drunken man, our group — Giselle, her mom Angge, and Charisse — was off to Port Stephens at past 5 pm.
This is one of the things I looked forward to doing even before arriving in Australia — spend Friday until Sunday on a road trip. Camping, stargazing, glamping, or any other activity. I brought along my tent from Hong Kong. It was a veteran of multiple Bond of Brother editions at the hills of Sai Kung and Clearwater Bay, now waiting for the next invite to be pitched in Aussie soil. Nonetheless, it feels great to be invited and join this group for an out of town trip. If not for that fateful September Saturday encounter with Kuya Benjie Garcia at Saint Anthony Church in Marsfield, my closest encounter with Himig Sandiwa would only be the cultural presentation at Our Lady of Rosary Cathedral in Waitara where my group with Buddy Menor and theirs performed. I remembered only Veronica Abracosa from the entire group.
Liv's group with Lynne Moncada and Mae Arpafo was the other advance party scheduled to leave Sydney around an hour after us.
As dusk came, Giselle was wary of the time of arrival while treading carefully on a slippery Pacific Highway. Meanwhile, Charisse was busy checking out her phone where to book for dinner somewhere on Central Coast. The trip's timing deprived us of the views but made it up by random stories ranging from Giselle's mom's role as calling out grammar mistakes (welcome to correct mistakes in my posts, po) as she encounters them in public signs and notices.
Charisse also points out the other group's whereabouts and giggles when she recalls funny mishaps in previous adventures with the group. I think this trip has the makings of generating another layer of a wacky adventure that's sure to be remembered for years to come. From the tales Giselle and Charisse shared, and I'll vow not to disclose in this blog, there's no dull moment I foresee. It's just like those past escapades I've had — whether it's the whole raucous engineering class bus trip en route to Baguio City, or the "retreat sessions" I did with the Computer Center folks. I missed those days.
After a quick burger break, stretching, and buying provisions at a roadside commercial joint, it didn't take long to reach our Airbnb address. I quickly surveyed the area as though I was a veteran tenant of vacation rentals. My wife hates the idea of sleeping in supposed rooms of other people and prefer to stay in a hotel. So apart from the exorbitant costs and impractical location of hotels in Oslo that prompted us to rent an excellent log cabin by the city center, I didn't have enough experience checking out and commenting about Airbnb listings.
The house key was conveniently placed at an outdoor table and not under the rug or some other treasure hunting ploy to at least puzzle a bit an incoming guest.
At first look, the property, which has four rooms and ample space for extra airbeds, is oriented like a maze. As Rollie would comment later, it looks as though it was a property extended to accommodate a such number of guests at a time. Our entire group consists of nine guests — two males (Rollie and I) and eight females (Mercy, Charisse, Maea, Lynne, Liv, Rea, Nica, and Andrea Panganiban); Giselle and her mom booked another property some 15 minutes away.
I checked the bedrooms, bathrooms, and cooking area, which made me realize I should have brought the longganisa, dried fish, and turon with me; I've stocked them for specific occasions or when I'll have visitors at home. I wish I brought them now. Nevertheless, we need to buy breakfast items.
By then, Liv drove past the property, misinformed by the wrong address Lynne had on hand. They brought more sweets off from a birthday party for Liv hosted by hospital colleagues. After choosing their beds and ensuring the house is secure and safe, everyone seemed resigned to call it a day. After playing Charisse's guitar and did our own 'impromptu' gig with an invisible audience, the 'concert' was unceremoniously disbanded, and it was lights out shortly after.
I was in bed, but I was anxious to publish a blog about a recovered Marshall headphone I lost on the train. So I spent the next 45 minutes writing until I finally retreated to bed at half-past 1 in the morning.
***
I did not sleep well, even if the bed was comfortable. So I got up early, went to shower, and immediately got still engrossed with my blog writing and assumed the girls were still asleep. Moments later, I got a call from an unknown number. It was Charisse asking where I was; she and Liv were already in the car ready to go to Coles/Woolies to buy groceries. I had my list handy — eggs, bacon, watermelon, strawberry, salt, cooking oil, milk, drinking water, and sliced bread good for today and tomorrow's breakfasts. Rollie's group, with his wife Mercy, Nica, and the alto duo of Dre and Rea, will be arriving in a few hours, so it would be wise for the advance party to conclude our breakfast the time they come.
I was conscious about preparing breakfast for a bigger group; I usually prepare for myself, or when I invite someone over at home. Having learned the skill during the pandemic while enrolling at Youtube university, I want to make sure egg and bacon — not the streaky one I preferred — were cooked correctly and in time to fill the hungry stomachs. In the process of accommodating the girls, I was content with sliced watermelon. That created a wrong impression for Lynne, who arrived late at the table.
"Ito nalang gawin kong plato," as she gestured on using the serving plate for eggs and bacon as her plate, leaving the chef with only fruits for breakfast, to the amusement of everyone.
That must have been the latest addition to the Lynsanity blooper series.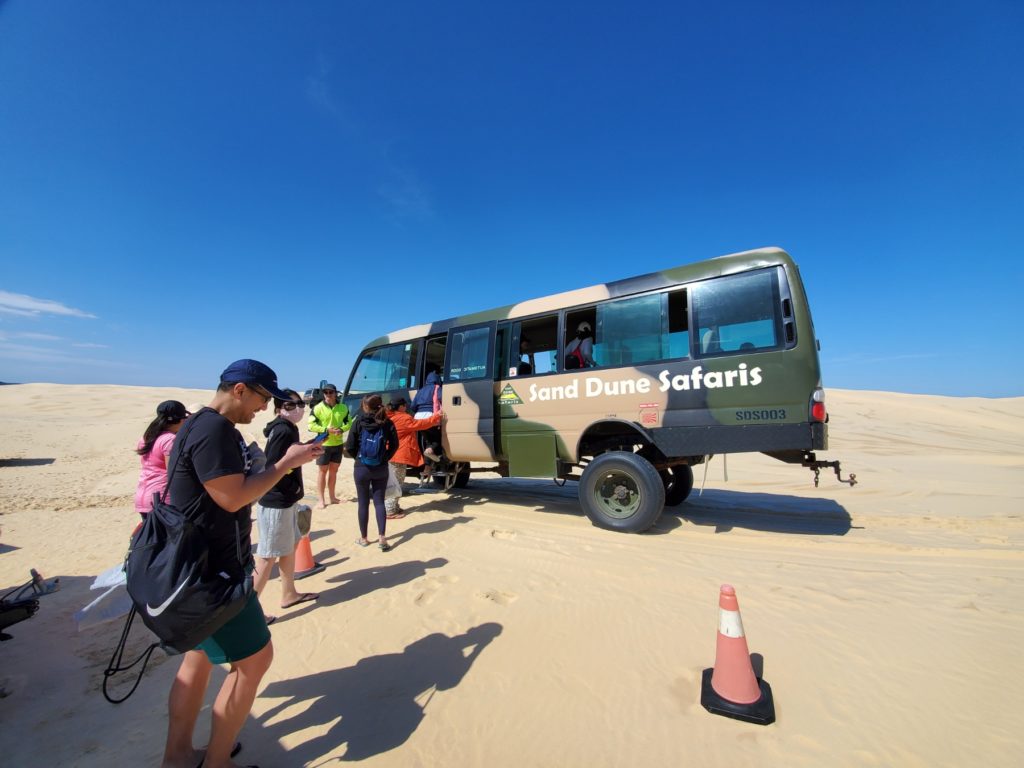 It didn't take long before the third car rolled into the garage, and the excited passengers greeted everyone with morning hellos and eagerly navigated their way through the 'maze'. Once oriented with the house as though inspecting for a property to lease, they agreed with which beds they'll settle into. Rea Mirandilla, our youngest companion and part of the third group, said they had their breakfast in the car, with food packs prepared by her relatives.
With bedroom arrangements confirmed, I moved out of the room and relocate my things near the extra pair of air beds prepared by the landlord in the spacious area next to the living room.
The weather was pleasant, as evidenced by our morning drive to the supermarket. The itinerary remained vague to me, but I trust Rollie's organizing skills, resourcefulness, and apparent familiarity with the area. I would love to help organize the next adventure, but we'll need to ride out this first before making those plans.
Everyone seems seasoned for adventures like this. Nobody is acting like a small child waiting to be indulged or a prima donna making the others wait for the right shoe selection or matching wardrobe for the trip. Heck, this is a sandboarding day, and nobody's going to a catwalk.
In one thorough check of the house — shutting down the oven, locking the doors, and everyone accounted for — I signaled we're good to go. After looking after everything else is in place, I realized that I forgot to bring my phone. That's okay; I can live a day without my phone. I worry Babes will call and worry why I didn't answer. So I'll rely on others to share photos later.
Onboard Liv's SUV, I hope to do a better job as a navigator and avoid the incident last night. But yes, I failed earlier this morning when Liv, Cha and was unable to notice the address and went beyond a few yards.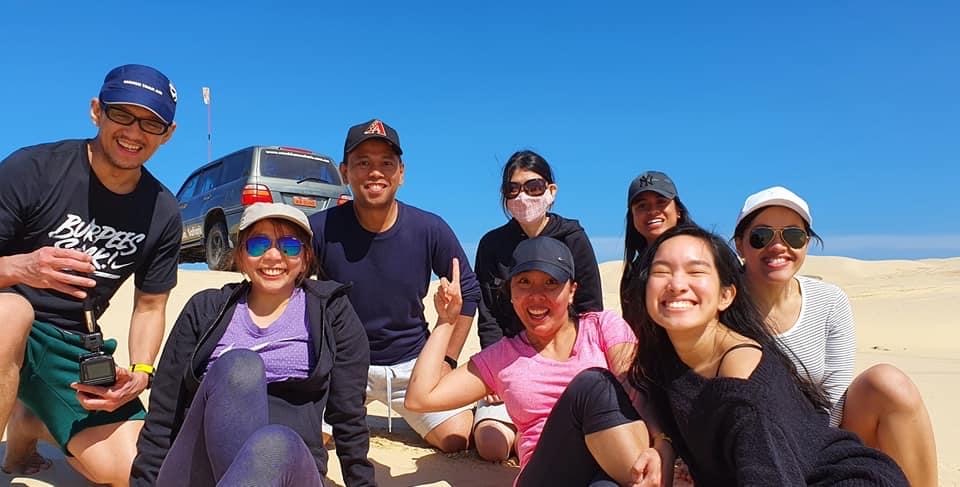 Our convoy trailed Giselle's car, where Lynne, Liv's navigator last night, became its new passenger.
The morning sun was ideal for sandboarding, but the first days of spring promised a hot scorching day in the sand, especially if we had a midday booking. After about 25 minutes, we arrived at our first stop — sandboarding by Sand Dune Safaris, one of the licensed operators that provide dune space, transport, and equipment for sandboarding enthusiasts in Anna Bay. It claims to be the only sand boarding company that allows stand up sandboarding in Port Stephens.
After registration and toilet break, our group was brought to the dunes with 40-foot cliffs on a 60-degree incline. The sun's rays began to burn, so half of the group went busy spraying sunblock. After a short, 2-minute orientation by two lads stationed at the shade, we got our paddles but felt tense while looking down from the edge. Sliding looks intimidating initially, but once you overcome hesitation with your first slide, it's all fun from there. The fear of sliding down was soon replaced with the agony of climbing back up.
Soon, the group warmed to sliding, standing up. From rolling like a log to emulating snowboarding experience, results were varied. Some were those worthy of America's Funniest Videos, and there were those that deserved a near-perfect score in a figure skating tournament. After rendering the path less ideal for sliding with rolls, tumbles, and climbing back to the summit, we conquered the more expansive dunes with longer slides but also endured a more tormenting climb back up.
Of course, the group won't leave memories in the dunes; taking photos and videos was a regular break to immortalize the activity shared on social media for years to come.
The heat of the sun became more intense, and one by one, we started to huddle under the shade, looking tired and unenthusiastic. Or perhaps hungry or needed to pay the toilet a much-needed visit. Once group photos, including the one sneaking in front of the tour company's 4WD vehicle, got the stamp of approval for social media sharing, everyone was ready to board the tour van and sail up and down the dunes like a rollercoaster.
The commercial district seemed deserted, even though today's a weekend. The Korean restaurant we decided to go to had less enthusiastic hosts, and some orders, including mine, were served late. In fairness, that delay seems nothing compared to our dining experience later that day.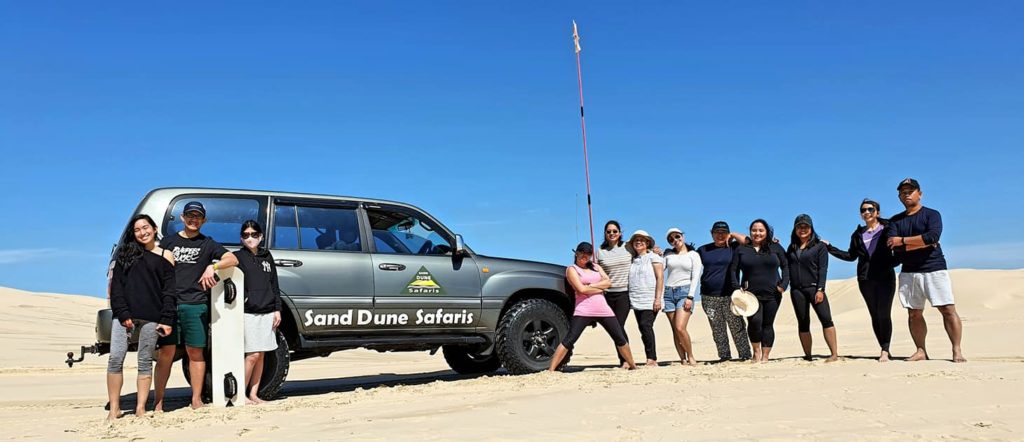 With time to spend, and other attractions close by, we decided to venture into Fingal Beach and attempt to cross the sand bar towards Shark Island and scale the Port Stephens Lighthouse. The ideal time to cross the channel was between 2-5 pm when the tide is not high enough for visitors to travel back to the mainland. The afternoon sun and gentle breeze provided a comfortable walk in the sand. However, we soon found out that it's impossible to cross the channel; returning folks from Shark Island had been wading through the waist-high water level. Had we proceeded as planned, there's a risk of difficulty returning to the mainland as the tide was rising.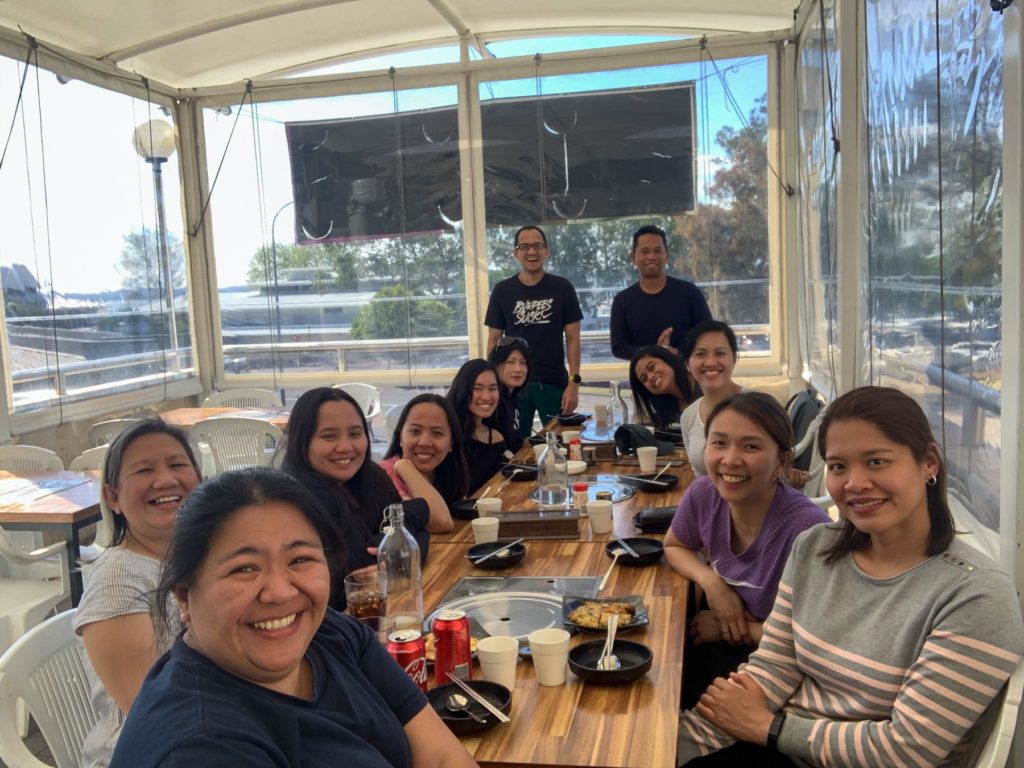 With the Shark Island adventure formally ditched, we frontloaded an activity supposed to be done tomorrow. At the nearby Gan Gan road, we headed to the lookout, aptly called Gan Gan Lookout. There, we waited for the sunset and took photos and timelapse videos as the evening chill began to take over. Another day has ended.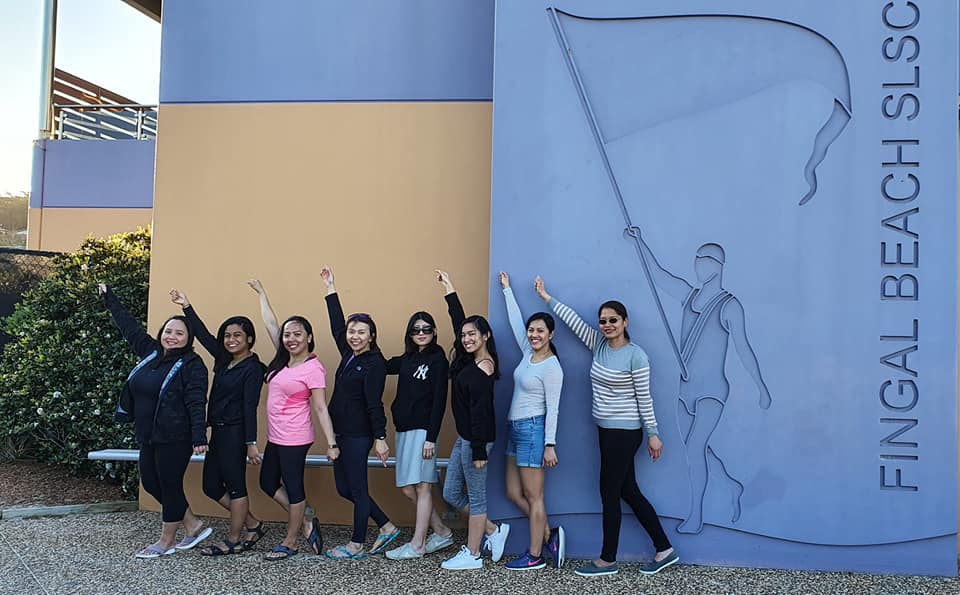 The group was looking forward to a heartwarming dinner as we proceeded to Nelson Bay afterward. Sienna's Pizzeria was fully booked, but we had a backup plan in the adjacent Nigronis. In the age of pandemic, dining in on a long table as a group of 12 has become a challenge. So we settled for two smaller ones with intimate conversations covering the time our orders were prepared. The weekend dining scene showed promise after months of apparent low turnout in customer numbers. Though we're dining al fresco, Nigronis had unfilled tables inside. So our presence outside may indicate a full house, but it's not.
Our table consisted of Giselle, her mom, Charisse, Maea, and Lynne. The moment we ran out of topics to talk about indicated service was a tad slow. With grumbling stomachs, we shared our protests within ourselves. But soon as Giselle followed up, our order, pizza, and other orders, including my lamb chop, arrived promptly. But it took at least 45 minutes of wait. Negronis was lucky we're still within our patience; you don't want to mess with hungry folks with lame excuses even when take away orders have been picked up left and right by people standing next to us.
Within our choir group, Giselle, like Dre and Caj (who failed to join us), are products of the University of the Philippines. While talking about quota courses at UP, I shared my sad story of failing to accept an offer at UPLB. Yet, I was proud to wear UPLB shirts even when I was studying at UIC. In contrast, Giselle said she didn't own a UP shirt until she arrived in Australia.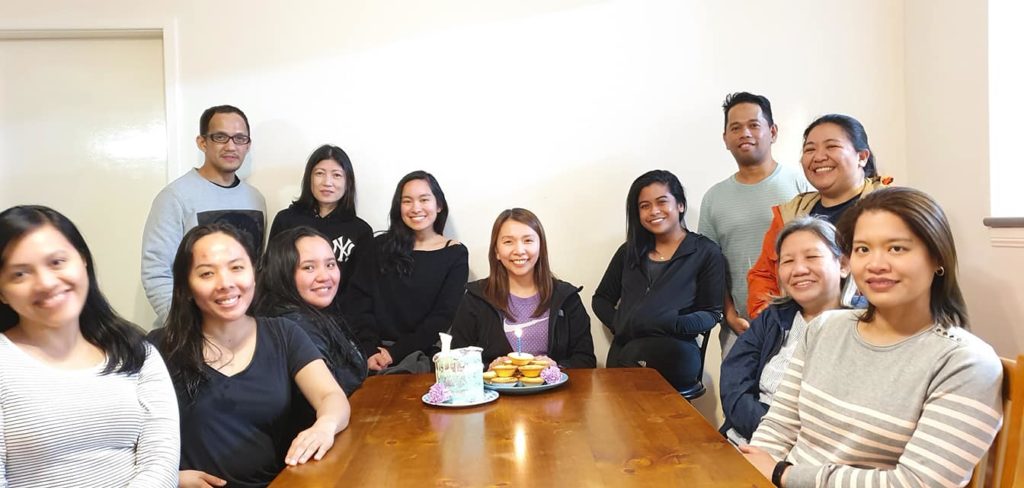 Even though the group had little energy left to spare, it managed to stage a celebration for Liv, whose birthday was yesterday. We brought out egg tart, the leftover cake, and lit a candle for the celebrant to blow and make a wish. Posing for photos, this is a reunion for the group, whose practices were canceled and services postponed indefinitely. The last big gathering I remembered was the Christmas party last year at Kuya Benjie's place — which featured unwelcome guests feasting on our catered Filipino food.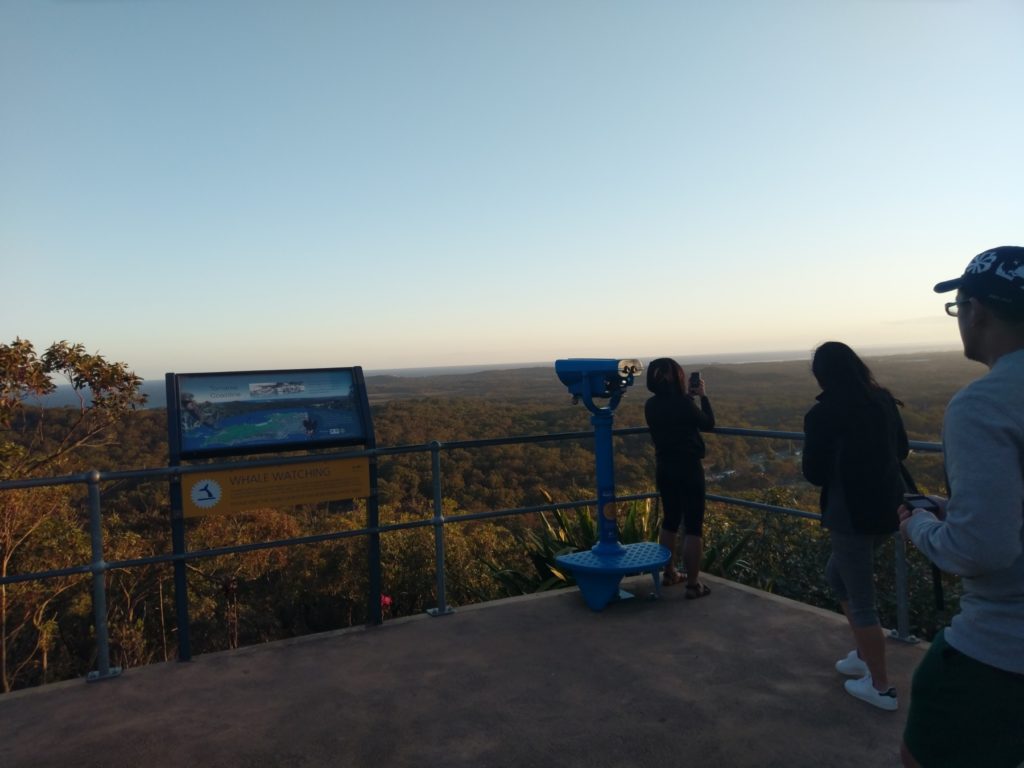 Dre brought me a couple of beers while the others enjoyed red wine after settling back from the shower and resumed the music jam with Cha and Rollie. I thought it would be nice to introduce the card game I borrowed from Emma. Still, everyone seemed engrossed with their mobile phones, so I just continued to play songs culled from my playlist of Eraserheads, The Cranberries, and Parokya Ni Edgar hits.
After everyone settled into their respective rooms, I cooked the one kilo of rice, moved the frozen bacon back to the chiller for tomorrow, and retreated to my laptop to continue the blog. Soon after, I found myself settling into my assigned air bed.
***
It was 5:30 when I woke up. I soon got the cooking started. As the appointed chef of the trip, I felt I should deliver and not disappoint the guests. I've partly moved on from my embarrassing rookie cooking mistakes, such as slicing chili on tinolang manok and served someone (you know who you are) who happened to suffer from diarrhea. Today's menu will consist of fried rice, infused with bacon bits and scrambled egg, fried meatloaf, and sunny side up eggs. Mercy also woke up early and extended a hand in chopping a generous amount of garlic, slicing the Spam, and washing the dishes.
I love to play music while cooking, so I deliberately turned off the range hood. My playlist had Rollie sang along with approval. I was also hoping this will start waking the others up and get ready for our final leg of the trip. Since we already did part of our plan for today, the only thing left to do was to scale Mount Tomaree, the original itinerary Rollie penned when he sent the ill-fated invitation a month ago.
Rea nonchalantly engaged us in a conversation when suddenly the smoke alarm sounded. Rollie, armed with cat-quick reflexes, climbed up and disabled the detector. Cha likewise opened the sliding glass window. I took responsibility for the mishap as I preferred to turn off the range hood vent to drown my Spotify playlist. I was told that if firefighters came over only to find out, it's a false alarm, we will be subject to a $2,500 fine.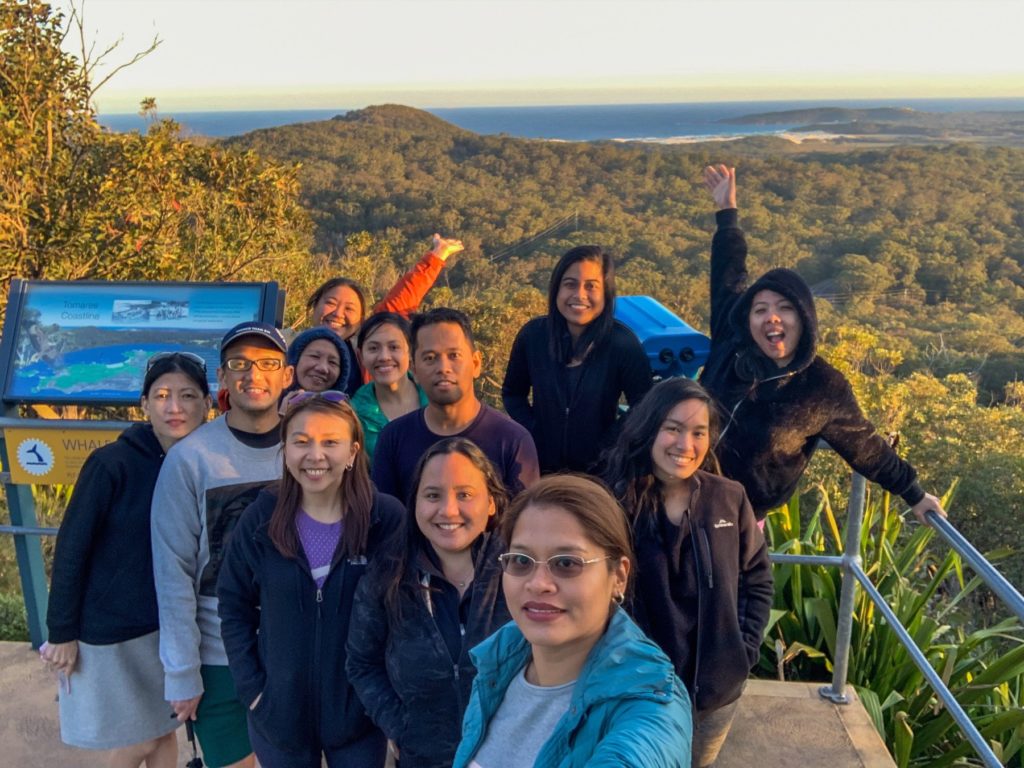 It didn't take long for everyone to gather in the table after Cha relieved me of cooking the eggs while heading to the showers. The mood was re-energized and ready to conquer that Grade 5 summit last in the checklist.
As we wrapped up our stay in this property, Maea and Rea helped restore order in the kitchen. After basic housekeeping such as the washing of dishes and disposal of garbage, we're ready to turn the property over to its owner and placed the key at the same table I picked it up.
The climb at Mount Tomaree was a bit steep, but I'm afraid I have to disagree with its Grade 5 difficulty label. Two weeks later, I went to Katoomba and found myself catching my breath at the Furber Steps-Scenic Railway walking track, which was only rated Grade 3.
But Tomaree offered great views that reminded me of the Barrenjoey trail. It also had a strip of land that divided Shoal Bay and the Pacific Ocean. That view provided additional opportunities for photographs worthy of Instagram posts. In addition to being the chef, key master, waiter, navigator, and butler, I also played a role as a photographer with models posing precariously near the edge of the cliff.
After the long, lazy walk back to the base, we found ourselves starving for lunch. This will be the final meal we'll have before heading back to Sydney. With shops closing by mid-afternoon, the tag team of Lynne and Cha helped locate a suitable place that a) won't complete when we arrive, b) serve food other than Italian or Korean, and c) will give us enough time to consume our meal in its premises. Thankfully, the duo managed to find a place and shared the menu with folks on the other car; Giselle and her mom decided to leave for Sydney earlier and won't join us this time.
When we arrived, the meal was promptly served as we sent our orders while still on the road. It should give us enough energy to last the rest of the afternoon, but we also looked for a dose of coffee to keep us awake on the trip.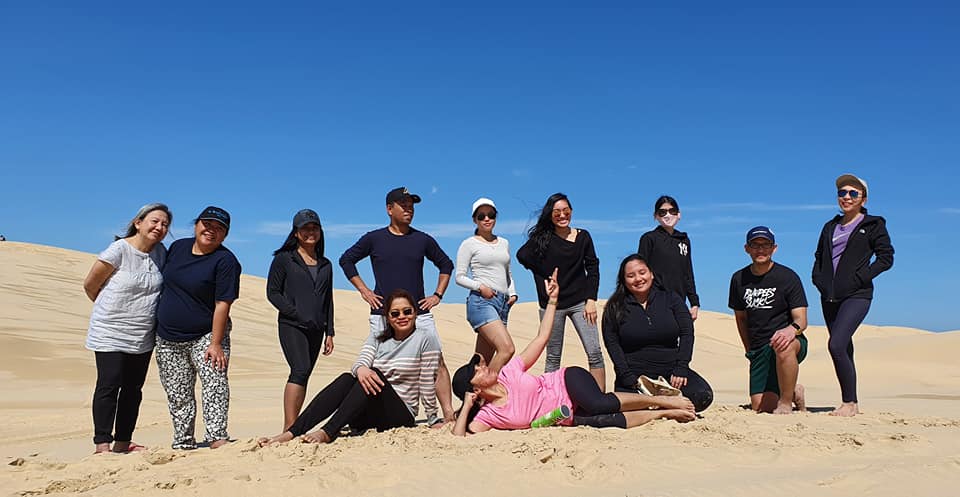 I was tired and sleepy at the front seat; my flat white did nothing to keep me awake. At the back of Liv's car, Cha, Maea, and Lynne had exchanges of topics relating to past trips, family matters, and friends I haven't met but helped me visualize their personalities. As we join a crowd of fellow Sydneysiders returning from trips up north, traffic caught up with us later in the journey. One by one, Liv's passengers waved goodbye as they reached their destination. Home sweet home.
Photo credits: Giselle Amanda Goloy, Rollie Openiano, Charisse Arpafo, Olivia Villanueva
Comments