I haven't been fit growing up. Not that I am sickly or have a physical handicap. I just chose not to sign up for gym membership nor developed a habit for cycling or running.
In Australia, fitness is deeply entrenched into the daily lifestyle. You'll easily find people jogging in streets — the business district or suburbs — flexing muscles and lifting weights, or enjoying the fresh air doing stretches at the vast expanses of greenery. There are midday yoga and pilates sessions, and showers are available at the office for those who go for runs or visits to the gym in between office hours. Gyms can be found in every nook and cranny in the Australian landscape.
So when coronavirus hit the Aussie shores, there's a sense of uneasiness at least to gym buffs as authorities were forced to issue lockdown across multiple sectors, including gyms.
As we were relegated to working from home — and dealing with lower back problems initially — I felt it's about time to emulate the healthy living many Aussie colleagues are accustomed to doing. I initially was fine with brisk walking until the opportunity to run with Olivia Villanueva came up.
Back in high school, besides briefly introducing speak takraw during intramurals, I played takyan, a weighted shuttlecock with candy wrapper or plastic straw during recess and after classes. As a sophomore, I helped our team win the gold in a word game, but I guess that doesn't count. At our small backyard, I played marbles, syatong. In our grade school's wide grounds I had fun with labo-labo, played by grabbing a tennis ball and other players try to stay as far from you as you attempt to hit them.
Way back in grade school, where baseball was more popular during district school meets, I get to play the game on an improvised bat, tennis ball, and reduced diamond field with Dante Plete, Michael Monteverde, and other fourth grade classmates.
In Hong Kong, I was briefly introduced to tennis by Zandro Barcelona and Irene Pangilinan. However, the chronic shortage of tennis courts and the cost of booking them was unsustainable, so I lost interest. Instead, I started to embrace squash, thanks again to Zandro, and patience of Aileen Momongan-Olympia to teach me how to play. It's become a usual weekend schedule with fellow Singles for Christ members Karen Obispo, Junjun Olympia, Dodo Casibang, Rowena Micua, Benjie Asidillo, and Tintin Imperio.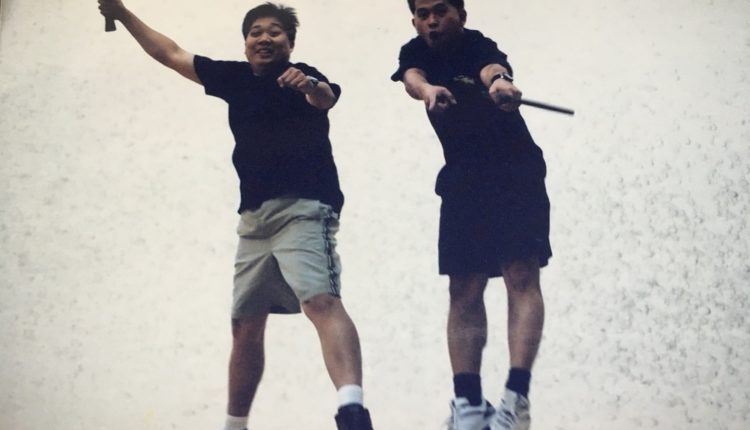 In Sydney, it took a while for me to embrace the idea of going for regular exercise, but now I've been trying to keep up for lost time.
The coronavirus pandemic was a blessing in disguise as it helped me find time to develop the habit. The experience prompted me to go for long walks, brief runs, and explore the countryside. Australia is too beautiful to skip exploring its great outdoors.
I've been addicted to this habit that even when it rains, I'll just grab my umbrella and continue with the walk. It clears my mind and also releases unwanted stress building up on a typical working day. I've been contending with the office Strava competition as well.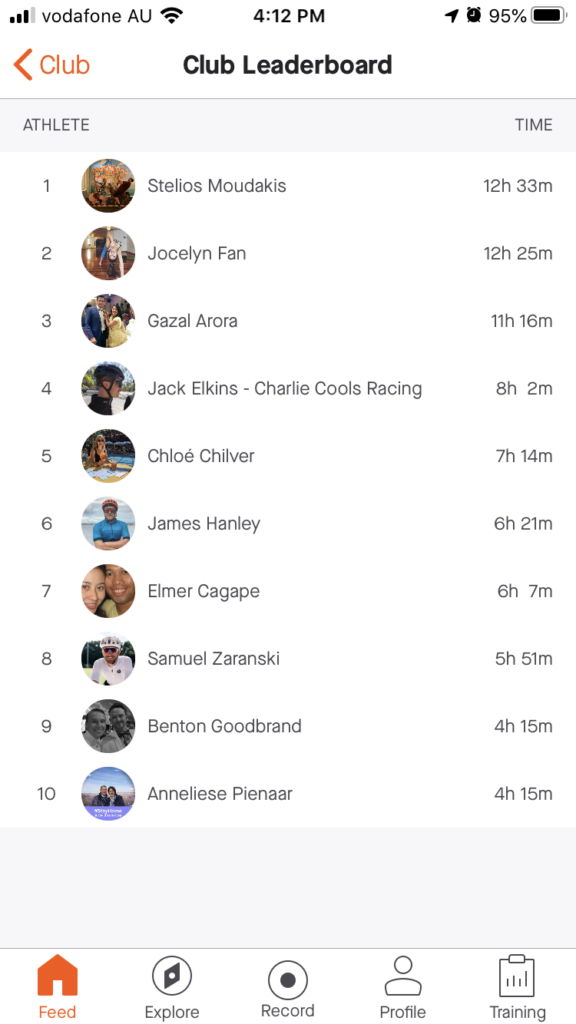 Now that the lockdown is easing, I'd relate it with Luca McAllister, my colleague at PHD whose Instagram stories often mention his passion for fitness and hitting the gym. But during the unprecedented closure of gyms, Luca was kind enough to share his thoughts and reflections as he endured a change in lifestyle in this so-called new normal:
Many of us are doing what we can to stay healthy right now. Basic behavioural tendencies such as washing your hands and maintaining an appropriate and safe distance from the people around you have become introduced as the new "norm" during the lockdown. As many of us are being told to shelter in our homes and to limit trips outside unless, for purely essential reasons, I have found myself experiencing that this new reality is certainly not making itself scarce anytime soon. Aside from the mass panic that people are experiencing as they consume and digest the latest national and international news from the comfort of their chosen device, what is often getting swept under the carpet is the toll this pandemic is taking on our collective mental and physical health.

Alongside many other businesses and franchises, March 23rd, 2020 marked the day all gyms in NSW were shutdown to further prevent the spread of the COVID-19. As the 2020 novel titled Coronavirus made its way across each State and Territory in Australia, what was once a place we could go to tune-out and de-stress from a busy day's work had now shut its doors indefinitely. Since then, I alongside many of Australians have closely monitored government websites, news articles from Industry Associations (in particularly Fitness Australia) and the trusted opinions of my Personal Trainer, whom I have gotten to know well over the past year as to when our beloved fortresses of solitude will re-open. Whilst the pandemic can be deeply stressful and frightening for many health professionals and enthusiasts, it also gives us the opportunity to take note of things we typically take for granted.

As a self-confessed gym junkie who lacks any form of creative flair and ability (So I initially thought), the lightbulb moment went off in my head and I knew that from here on out it was time to make the most of what I had at home and what I could find at the shops to move forward with my journey to better myself physically and mentally and smash my goals. Admittedly, with the assistance of a few DIY Instagram and YouTube videos (not to mention some good old fashioned elbow grease), I was able to craft a sturdy and practical set of weights in the form of sandbags, a beach umbrella pole, some packs of bottled water and a long piece of bamboo that have lasted me to this very day and that I still continue to train with. As you'd expect, I received a number of confused looks from neighbours and passers-by whilst I would work out in my garage alone, but reflecting on this, it has provided me with a sense of gratefulness as to where and when I spend my time and energy.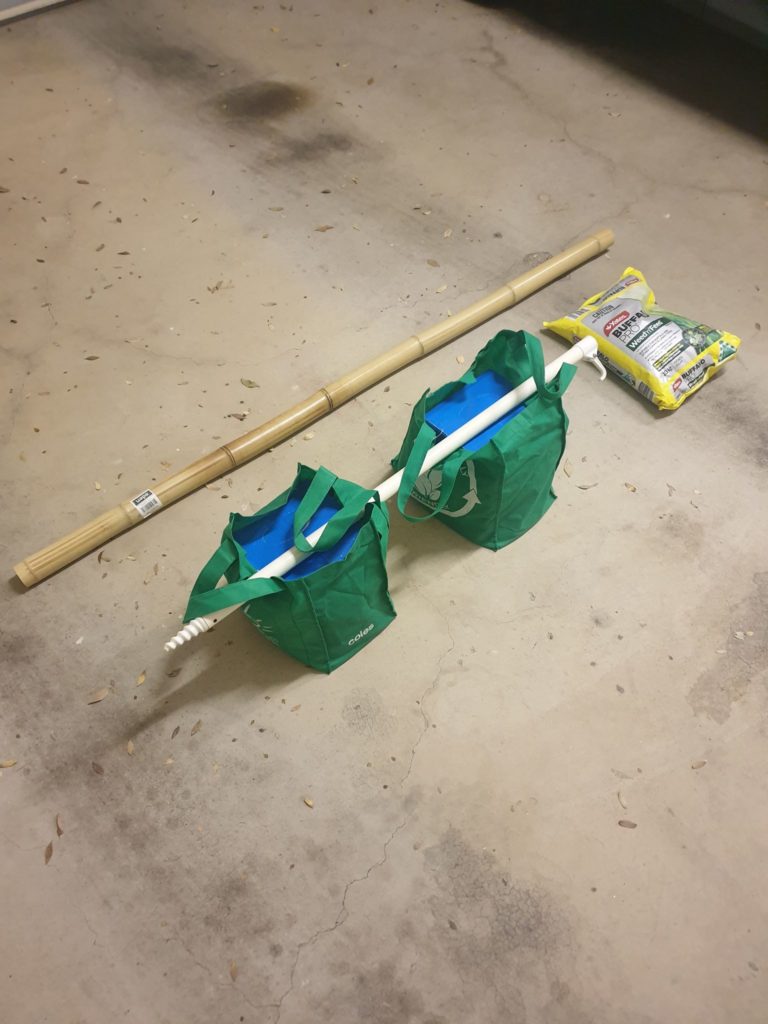 One of the main weapons we hold to fight Coronavirus is our mental capacity. More than ever, as a nation, we are going to have to make a determined effort to be physically active. I am sure for many of us, lockdown is taking what was once our BAU routine and forcing us to adapt to a new, more dynamic environment. Not only can regular exercise help boost our mood and have the ability to manage stress levels, developing a solid fitness plan will ensure that we stay motivated for the coming months. I implore those reading this to go into your garage or bedroom or wherever in your house and find anything that can give you some form of resistance training and get moving. I assure you; you will be surprised as to what you can really achieve and how many goals you can smash with just a couple of basic household objects.
Yes, gratefulness, I love that. And looking after ourselves is becoming more important. Despite what's happening right now, we have to be grateful of what we have — we are healthy, we have our jobs, we can spend more time doing things we love (like exercising, cooking, and other newly found interests).
Now that the gyms have been allowed to open albeit under social distancing measures, I see Luca has a wide grin in his face. So, it's all good, mate.