I attended today's MFA 5+ session How Leaders Can Create a High Performing Culture Through Diversity in Sydney city. It was my first paid event to participate in Sydney, and it had its impression on me.
First, it was held way earlier than previous events I attended in Hong Kong. At 7:55 am, I had to make sure I take the 7:07 am bus from home to reach the city by 7:40. But having the event started early allows attendees minimal interruption from their daily work. After the event, I managed to be in the office (around 15 minutes by taxi) before 11 am.
Second, the structure of the event was pretty straightforward. There were about 24 tables, and attendees were spread across multiple tables, so we were able to mingle with other media counterparts from other agencies. Pastries, fruit, and coffee were served as we settled in, and breakfast came in just as the event commenced.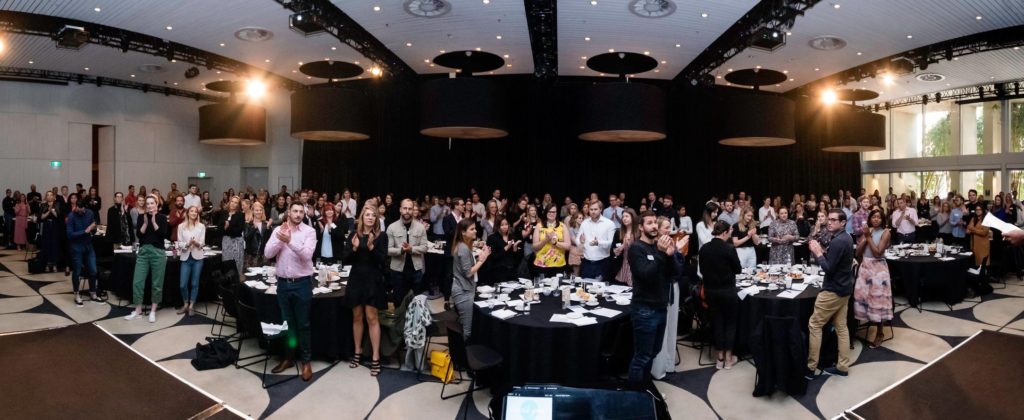 The two main topics of the event dealt with inclusivity among members of the LGBT in the workplace, and inclusion among members of various cultural backgrounds. Just last Friday, teams from activation and search in our office had its international food day, a bit of showcase of various sweets and exotic food from members of different backgrounds. I went on with my presentation about SEO, but I also introduced the Philippines so everyone else in the room will learn a bit more about my country.
The first topic's speaker was Robbie Robertson from Deloitte. He talked more about how his team has championed not only for the inclusion of members of the LGBT into the workplace but also how this move helped them become more valuable assets in the company. By empowering such members of the society, he said, brought tangible results for the business.
He also mentioned the recruitment process where applications are anonymized to minimize so-called unconscious bias, which tends to favor or disapprove a claim based on the name of the applicant instead of the qualification he or she has presented.
The second speaker, Tasneem Chopra,  a cross-cultural consultant and champions the anti-racism campaigns in Australia, dug deeper into the issue where I can relate more: inclusion of people of color into the Australian mainstream. Ms. Chopra, who was born in Africa, but moved to Australia at a young age, noted that a random check on the cover of glossy magazines at a recent visit in a local newsstand revealed women who belong to one cultural background.
Our table was at the back, and from a quick scan, about 90 percent of the attendees belong to one ethnic descent, though, of course, they come from various cultural backgrounds. It was nice that one of the presenters was Josline Mutombo, my colleague at PHD., who was from Dem. Rep. of Congo but raised in South Africa, and added a bit of diversity of people who came on stage.
I shared the table with Andrea, another colleague at PHD, along with fellow media teams at OMD, Val Morgan, and Mediacom. In the table discussion, and we spent time discussing the key points that resonated among the two main themes in today's event. We also presented various ideas in ensuring that people from other cultural upbringing are not only welcomed as part of a diverse Australian society but also their beliefs are acknowledged and respected.
As a newcomer in Australia, I have brought with me impressions friends told me about what to expect. Some of these friends have visited the country, while others merely chimed in with their thoughts sourced from weak references. I was told that racism in Australia is rife, a statement echoed by WWP AU/NZ's John Steedman, who backed it with results of recent surveys. The issue has been severe that some job applicants have used Western names instead of their Oriental identity, so they get higher response rates when applying for jobs.
I haven't experienced such discrimination yet, though I won't be surprised to come across one in the future. On one end, discrimination should be eradicated by proper education. Still, also on the other end, the receiver of a hostile attitude may need to learn to let go of what others might perceive as an issue of discrimination.
For example, if someone asks me where I come from, I am glad they asked because it shows their interest in learning more about me. But another person may not interpret it that way; he/she might look at it as a way to poke holes into a person's background as a basis to stereotype him or her.
Certain people exhibit disgusting attitudes regardless of their backgrounds and cultural, ethnic, or religious upbringing. If I come from Hong Kong where it's an unwritten rule to always find your place in the line at the ATM, bus stop, or cashier, I would expect the same acceptable behavior as the norm elsewhere. While waiting for the bus going home, forming a line doesn't seem to exist, BUT if people are civil enough to give way to those who are standing in front of them and do not cut the line, that still works!
In a country like Australia, particularly a city like Sydney, where multitudes of people you meet in the city originate from different countries, it is essential to get to know others and understand their perspective. In this way, we become more open-minded about the environment around us and get rid of that insular, self-righteous attitude.
Comments