Our parents are our first teachers, and our homes serve as the fundamental institution to learn both cognitive skills and manners that would define our character for a lifetime.
But as we step out of our homes to extend our worldly horizon, our schools serve as the next stopover. It's where we not only enrich our knowledge; it's also where we make new friends and build memories.
At first, we feel detached from the comforts and familiar surroundings of home. But soon we'll warm to the idea that we're not alone; other kids share the same feeling. A comforting presence of a class teacher is all every child needs.
When I enrolled at the Project Hope kindergarten program, Ma'am Beatriz Canillo was a soft-spoken teacher who has become endearing to us young children. School life was simple, in our cramped seats and dusty floor, with vague memories of playing at the swing and see-saw at the playground, and writing our first letters or coloring characters at our workbook.
It didn't take long before I moved to grade school.
Grade 1 Daisy: Ma'am Teresita Camcam
Grade 2 Zinnia: Ma'am Florita Papin
Grade 3 Champaca: Ma'am Nena Palomaria
Grade 4 Santan: Ma'am Cleofe Cadigal
Grade 5 Bougainvilla: Ma'am Norma Alejandro
Grade 6 Tulip: Ma'am Perla Umusig
Other teachers who have taught certain subjects:
Home Economics – Ma'am Anecita Pepito
Library – Ma'am Bibiana Flores
Industrial Arts – Mr.  Antonio Malaga
Agriculture – Mr. Felix Coloma
Science – Mr. Romeo Hernandez / Ms. Bengaura
English – Ma'am Casimira Santos
Music – Ma'am Cecilia Blanco
As days went by swiftly, grade school paved the way to high school:
First Year St Agnes: Ma'am Josephine Alminaza
Second Year St Elizabeth: Ma'am Conchita Broncano
Third Year St Helen: Mr. Charlie Valero
Fourth Year Mother Rivier: Ma'am Gumersinda Recla
My other elective/subject teachers:
Ma'am Nora Roque (English)
Ma'am Corazon Cabiguin (Practical Arts)
Ma'am Remedios Carongay (Filipino)
Ma'am Cecilia Sawan (Filipino / Practical Arts)
Ma'am Evangeline Macaresa (Physics)
Mr Roland Picar (Geometry)
Mr. Asterio Olandria (Trigonometry)
When I moved into university, the intimacy of having a class adviser changed, but the same respect and honor was accorded to my professors, although in a more casual, relaxed manner.
Mr Jesus Reyes (English)
Ma'am Erlinda Bantillo (Theology)
Ma'am Helen Jinon (Theology)
Mr Vincent Bajo (Philosophy / Rizal)
Mr Gilbert Laureano (Compiler Design)
Engr Erlinda Solito (Chemistry)
Engr Ellmar Rosales (Diff / Integral Calculus)
Engr Rogelio Caballo (Algebra)
Engr Roy Escalante (Engineering Mechanics)
Engr Henry Sabate (Engineering Drawing)
Engr Minette Ibanez (Electromagnetics)
Engr Rolando Baes (Advanced Engineering Mathematics / Differential Equation / Circuits)
Engr Raymundo Moso (Plane and Spherical Trigonometry / Control Systems)
Engr Leonardo Narisma (Strength of Materials)
Engr Servando Abad Jr (Electronics)
Engr Reynaldo Deypalubos (Physics)
Engr Russell Teleron (Assembly Language)
Engr Marife Negrido (Physics)
Engr Allan Gierran (Electronics)
Engr Leo Usa (Thermodynamics)
Engr Elvi-lito Ubas (Microelectronics)
The age of social media helped me connect with them. I learned that Engr Usa, our thermodynamics teacher, pursued a career in the maritime industry after his stint at UIC. Sir Allan Gierran, our dean at the College of Engineering, has settled in New Zealand, Sir Aabad receiving the teacher of the year award, and Ma'am Sawan has retired after 23 years at work in the government and had recently been traveling to Israel.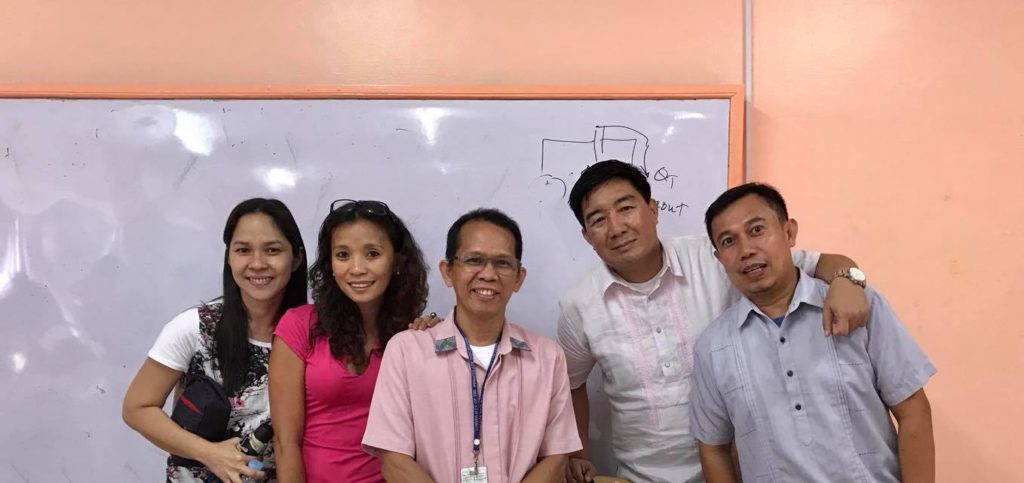 But social media also helped bring sad news about some of them. Via Facebook post, I learned that Engr Deypalubos passed away in 2013 and Engr Escalante in 2015.
Not long ago, I connected with Ma'am Camcam, my grade one teacher, through Facebook messenger.  Although it was only through words we communicate, I felt she was excited to get in touch again after so many years. It was 2017.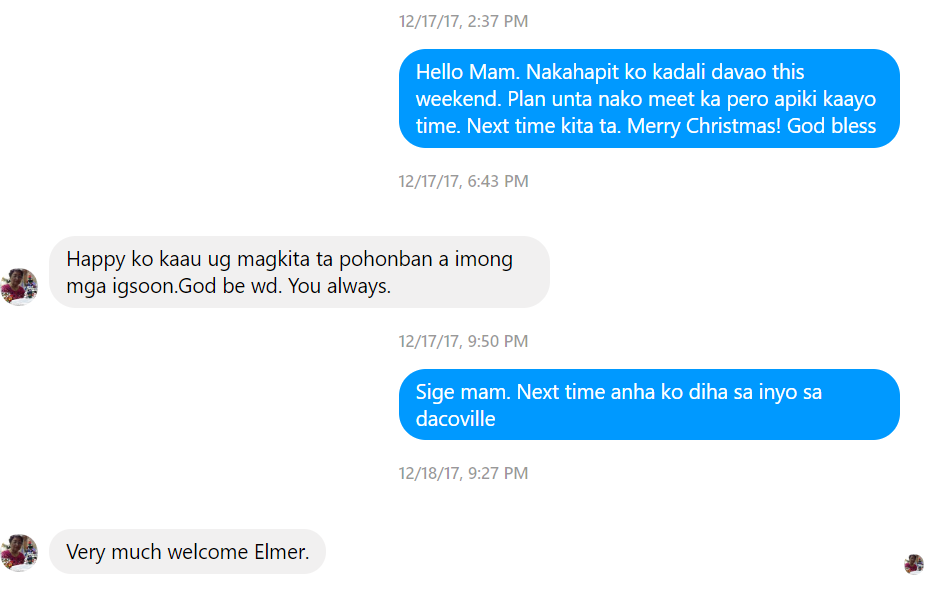 But the reunion did not happen. Ma'am Tessie passed away less than two months later. Although it was unfortunate that we did not meet, I am still thankful that we got in touch even for a brief time.
I realized later in life that what we learned in university may not be enough to get me to that job I desired. But school is a place you only learn technical or specialized skills; it's also a place where love and care are manifested by our teachers who toiled hard in preparing lessons and ensure students learn.
Why do I know this? I have a teacher who is a public school teacher, and I taught at the university for three years.
So, before it's too late, let's express our gratitude to our dear teachers. It's the least we can do to them. It's a shame if we don't even remember their names anymore.
Comments