Growing up, we may have heard the lullaby our grandma sings for us to sleep, the FM radio while we prepare to go to school or in our morning commute. From then on, our system processes them and influence the choices that remind us of our childhood or moments when we fell in love. Some of these songs become our go-to hits when we sing in the shower or when asked to pick a karaoke song.
Currently, we often listen to streaming music like Spotify and don't rely on which songs radio stations feed us. While it empowered us to decide what we'd like to listen to, relying on our taste also deprives us of new music to discover and appreciate, even if Spotify features new releases and suggested music based on our listening patterns.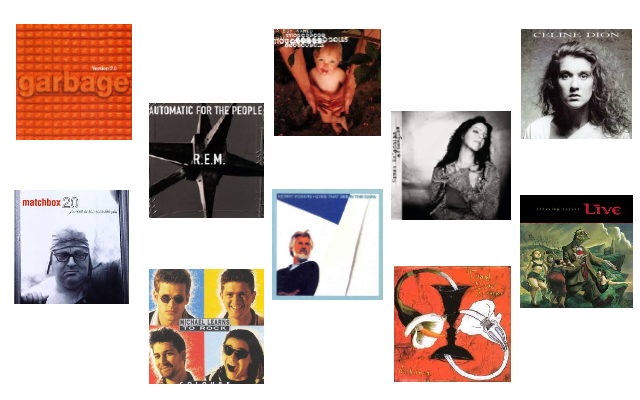 To me, these musical albums may not necessarily be coming from my favorite artists, but they certainly did stamp a personal historical footnote over the years.
Live – Throwing Copper
Reminds me of: My time at UIC
Favorite song: Selling the Drama
I first saw this record from a college classmate named Kle Roger Lazaga. He sits quietly in his desk and does not try to get anyone's attention. But behind his silent demeanor is a big fan of alternative rock music that did not require tattoos or ripped jeans to reveal a common stereotype associated with this genre. He brought his newly acquired albums of Silverchair and Weezer to us and influenced me to embrace and listen more to this type of music.
What I like about this album is that it strikes a balance between slow (Lightning Crashes) and fast (Stage) pace while establishing a consistent flair for infectious melodies from the high pitched vocals of Ed Kowalczyk and that I love from one end of the album to the other. This album also got me started my love affair with drums, mimicking Chad Gracey's rendition of I Alone.
Sarah Mclachlan – Afterglow
Reminds me of: Jacqueline Sung at Pacific Connections
Favorite Song: World on Fire
I just joined my first job at a web development agency in Hong Kong with a small team led by Marcus Crowley who helped bridge my career from web development to SEO. There I was teamed up with Jacqueline who was in her first job after graduating from Michigan State, and we worked on the Australian Tourism Commission (later known as Tourism Australia) project. I just got this album from listening to the samples at HMV CD booth, and immediately loved every single music from start to finish. When Jac and I worked late to finish a newsletter and integration with TNTmail, our in-house email tracking tool, this album kept me going late at night.
Though none of its songs were at par with Angel, Adia, or Building a Mystery in terms of popularity, Afterglow is a perfect album suited for my melancholic moods.
Celine Dion – Unison
Reminds me of: Lunchtime window shopping at Gaisano Center
Favorite Song: Where Does My Heart Beat Now
I was a freshman at the University of the Immaculate Conception and I sometimes get dragged to explore the Bonifacio-Claveria-Rizal corridor near the campus with friends such as Mark Angus, Novo Suerto, and Pete Dioquino. But one that became a common go-to place even when those guys weren't around was the ground floor of Gaisano Center in front of the main campus of the University of Mindanao. That's because I found a treasure trove of music albums in neatly placed cabinets where compact discs compete with cassette tapes for attention. It took me several trips before I finally bought my first ever music album in that shop.
Where Does My Heart Beat Now had a generous air time at 92.3 Wild FM, thanks to Dr. Bobby Fever. It also reminded me of a girl back in high school. Celine Dion's rendition of this song sets up a foretaste of the way My Heart Will Go On, It's All Coming Back to Me Now, and other hits have fared in the future.
REM – Automatic for the People
Reminds me of: Engineering Class Outing in Samal Island
Favorite Song: Try Not To Breathe
When I was in Hong Kong, I was also known as Rem, a reverse of the last three letters of my name. That's not a coincidence that REM is one of my favorite bands, and I think the album Automatic for the People is the best; Monster and Out of Time as close runners-up.
We were at the penultimate year in the university, and our class organized a trip to Samal Island that will be one for the books. It was our toned-down version of spring break, with lots of food and plenty of intrigues chew on, and it felt like we already graduated, and not one more year of slogging through another year of sleepless nights working on projects and defending our work. The song Try Not to Breathe was a great fit when our group flocked into the sea and frolicked under the full moon. Nightswimming was perfect when we did not mind spending the entire night eating, drinking, and talking anything under the moon — what future awaits us, the outcome of our pursuits of the girls we were chasing, and how we wish this night won't end.
Toad the Wet Sprocket – Dulcinea
Reminds me of: University Field Trip
Favorite Song: Something's Always Wrong
It was just a week before our university field trip to Manila and Baguio when I was still in the hospital recovering from an appendectomy. I was cash-strapped and had to loan money from my aunt to support my trip, a requirement to join because it's actually a subject that earns three units. That trip commenced with a 48-hour trip via Super Ferry, which was a field trip on its own. There were tales about the ship, escapades that are better off unpublished, and the chance to mingle and get to know classmates in a different way. Jonathan Ambong was gracious enough to lend me his Walkman and loaded it with Dulcinea, the fourth studio album of Toad the Wet Sprocket, my all-time favorite band.
Windmills set a perfect background as the ship crossed the calm waters off Negros early in the morning; Crowing and Nanci reminded me of this unrequited love for a classmate, and Fall Down when we're struggling to cover ourselves up with our bespoke Computer Engineering jackets during cold nights at the deck.
Fast forward in 2018, my wife and I were looking forward to attending the band's concert in San Francisco's Great American Music Hall on July 22, 2018. We were hoping to listen to at least a few of this album's songs. Unfortunately, the event was canceled and I am not sure if I'll ever be able to watch the band's live performance.
Goo Goo Dolls – A Boy Named Goo
Reminds me of: Project overnights at Ronald Celestial's boarding house
Favorite Song: Naked
They say high school life is one memorable episode for everyone. But in the context of song influences and the memories they created, life at uni had more tones attached to it. This is another example of Kle's influence in my choice of songs was made clear. We just finished having our dinner at Ben and Beth's and secured permission from my parents to spend the night at a classmate's house. Ronald, also known as Toto, was a good friend with a generous heart who offered his skill, tools, and boarding house as our temporary facility to work on our power supply project. His place at Aurora Quezon was just a stone's throw away from our classroom, making it an efficient choice for a prompt transition between academic and project undertakings.
Downstairs, there were other occupants who are fond of playing music loud enough for us to hear. The first one I heard was Long Way Down, and later it was that song which became what it's now known as last song syndrome: Naked. The name of the band, Goo Goo Dolls. I came to know the band a bit, but those two songs plus Name and Ain't That Unusual stood out. Thanks to NU107, the band had an additional promotion in the airwaves. From setting up the breadboard to measuring the electrical resistance of resistors, the music downstairs became our rallying cry deep into the night..
You're naked inside your fear
Can't take back all those years
Shots in the dark from empty guns
Never heard by anyone
Kenny Rogers – Eyes That See in the Dark
Reminds me of: My grandma
Favorite Song: You and I
From our humble transistor radio that served the unending saga of Esteban Escudero dramas and Vigilante commentaries of Freddie Vergara, we sort of upgraded to a mini component that now includes the FM band. It also came with a brown cassette tape me and my siblings were eager to play. It turned out to be a great album by the recently departed Kenny Rogers. At the time, our grandma suffered a stroke and was bedridden.
Although the song had great hits one after the other I won't skip any song (I'd always skip Reincarnation Song at TTWS's Dulcinea), it was a sad reminder of our anxiety and worries of our grandmother's deteriorating health. In a matter of four months after we first heard the album, our grandma passed away. So every time I listen to this album, I remember my grandmother. Not when she was sick and barely able to speak, but during the time she'll arrive from a trip downtown with a big box of goodies after cashing her US veteran's cheque, and other happy memories shared with us.
Michael Learns to Rock – Colours
Reminds me of: Jose Punongbayan's Home
Favorite Song: You Keep Me Running
Another episode in college that never goes old. This time, I took my talents and dependency on a classmate into the household of Jose Punongbayan Jr. Jose belongs to a big family, but we never felt we were a burden because of their welcoming gesture and genuine friendship that extends from her sisters and mom to their neighbors. The tag team of Vincent Guerra, Anecito Dumdumaya, and Lawrence Pantalla used this home base to build our projects but also spend time watching television and VHS tapes. But when it's time to work, their larger than life karaoke machine was a reliable motivator to keep us going, from Madonna's Immaculate Collection to Jim Brickman's sleep-inducing pianos.
However, I believe Jose loves Michael Learns to Rock the most as this CD gets his bias over the others. From this album, 25 Minutes seems to be the most popular, but You Keep Me Running is a personal favorite that helps keep me awake. When Sleeping Child gets played, the three/four of us congregate over the chorus..
Oh my sleeping child the world's so wild
But you've build your own paradise
That's one reason why I'll cover you sleeping child
… the the group lets the original singers recover their song.
Garbage – Version 2.0
Reminds me of: Ho Ming Court, Sai Ying Pun, Hong Kong
Favorite Song: Dumb
I just arrived in Hong Kong, shared a flat in Hong Kong island's Western District with two relatively new friends. It was a time when I found more freedom to build my CD collection. Garbage, the band I've been tracking since I was working at PhilWeb in Cagayan de Oro, was the prime target for acquisition. While I like their first hits Stupid Girl and Only Happy When It Rains from its eponymous debut album, I found the second album Version 2.0's more defined electronic pop identity and catchy tunes more ear-pleasing to me.
Meanwhile, in our humble abode, Leo Suyat prefers to listen to boy bands like A-1, while Nino Debonbon seems to like any music we play. I clearly remember that when Version 2.0's Dumb was played, he'll dance along, a visible gesture of approval that my choice of music isn't weird, disgusting or too loud. This album reminds of time in Hong Kong when I as a newcomer often get lost inside MTR station, have the tendency to convert Hong Kong dollars to Philippine pesos and learn how to count in Cantonese.
Matchbox Twenty – Yourself or Someone Like You
Reminds me of: My time at Zurich Insurance in Makati
Favorite Song: Push
It was a period in my career when I had to switch jobs and switch places in a short period of time. I moved from Davao to Cagayan de Oro, then assigned in Manila and returned to Cagayan de Oro to tender my resignation after I found a new job in Makati. I also moved from San Andres Bukid in Manila to Reposo in Makati, and in a few months, I'd be in Hong Kong to work for PCCW. All these things happened within a span of 8 months.
When I settled in Makati to live and work, it was the first time I lived alone. It showed me how both empowering and challenging to be in this situation. Thankfully, I had plenty of time on my own and my constant companion was my Discman and favorite CDs in tow: Johnny Hates Jazz, Matchbox Twenty, and a few other bootlegs bought at Greenhills. What stood out from this album was when I am done with work and finished my dinner at Glorietta, I always retreat to my room and listen to Matchbox Twenty. Unlike today's Spotify whose music won't skip a beat when you are in the middle of a workout, life with a Discman is limited in a stationary position. The songs in the album appeared to soothe me at a time when I was at crossroads of life.
Comments