Passion is that energy that keeps us going. That relentless drive helps us with excitement, anticipation, and fulfillment in what we do. In the case of our Himig Sandiwa choir group, that passion is quite obvious. While our careers vary in fields other than music — as architect, nurse, or teacher — being members of the choir unites us to share this passion to sing.
Filipinos are a musically-inclined group and I am blessed to belong to communities of talented musicians, as part of the choir and music ministry of the Missionary Families of Christ. So the stars aligned over the weekend: A Saturday karaoke session in Rhodes hosted by our new choir members Jonathan and Princess, along with their respective partners, and a Sunday jamming session on the occasion of Oliver and Frida's daughter Feona Olivia's baptism in Parramatta.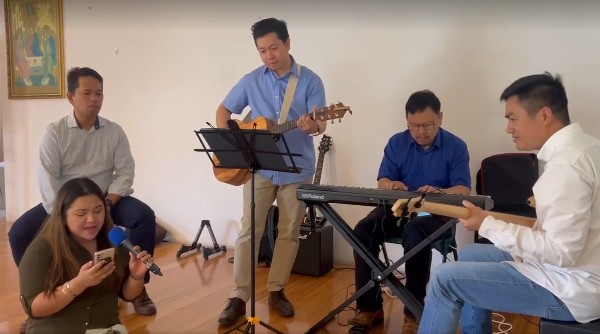 The last karaoke session I've been to was during our farewell party with our Hong Kong friends. Over at CEO Neway in Causeway Bay, multiple rooms of various room capacities operate simultaneously. As you walk the hallway, you'll hear the reverberating songs of Teresa Cheng, Kelly Chen or Leslie Cheung performed by fans as servers open the door to deliver drinks inside the rooms. Thankfully, there's also a generous serving of Filipino music for those of us who are ready to belt out our favorites beyond the shower room.
Paid by the hour, customers of these karaoke bars have to make full use of the allocated time and be flexible to switch from eating and drinking to singing, ensuring that at the end of the booking hour, nobody ends up missing out on songs they've prepared to showcase.
But even at the Rhodes apartment, we also have to be mindful of the neighbors who might complain of our noise during late-night pandemonium. We used to have Korean neighbors back in Tseung Kwan O, who pounded the concrete walls as Melissa, Arvin and Emman played acoustic songs. We had to stop the session even though it was just five in the afternoon. This time, I am hoping that Jon and Princess's place is insulated enough so that no complaint of any form or shape from an overzealous next-door neighbor will emerge later in the session.
Prepare a list of songs before coming over
Just like in our jamming sessions, we often pay attention to our instruments, amps, and wire adaptors rather than which music to play. But soon as the sound check is done, we stare at each other uncertain which number to play first. This preparation should also be applied before coming to a karaoke session. I don't know about the rest, but I have the following songs ready for action:
Semi-Charmed Life
Jumper
When You Say Nothing At All
The Best of Me
Push
Lovesong
One
How to Save a Life
We Don't Talk Anymore
Something Just Like This
Paris
The Scientist
Good Riddance
Linger
Only Semi-Charmed Life, How to Save a Life, and Paris were ever played, but having a handy list helps you pick a song you are comfortable with. Carlo also had his list prepared, but lamented that his list was old school. It turned out fine, as we didn't really comment on the selected songs. Or so I thought — more on that later.
Have a happy tummy before singing
Anecdotal evidence reveals that a person weighing 150 pounds would burn about 100 calories singing for an hour while sitting down. If that's an indication of the amount of energy burned during the session, consuming food before singing for the next five hours was a good idea. The invite was at 4 pm, so for the early birds, it was a bit late for lunch and too early for dinner. Nevertheless, food was already available for us to partake in while watching the rom-com classic Pretty Woman on TV.
Food was plenty, from finger foods (salami and cheese) to nibble to full-blown meals (rice and sinigang na baboy), were on offer. Grabbing a bite while waiting for the others to arrive was a wise decision. So when I was done with my plate, I wasted no time revving the karaoke engine with Third Eye Blind's signature song.
Drinks were also served, from tequila and makgeolli, which Mary introduced to me to Sapporo beer which late arrivals Allen and Andrea brought. Drinking while under the influence of alcoholic drinks might bring extra courage to push your vocal chord limits but it can also backfire quite easily. It's best to err on the side of caution, rather than embarrass yourself and be the butt of jokes in the next upcoming practices.
Be kind to those who don't sing
Even though almost everyone was eager to sing — choir members in a karaoke setting, hello — there are the likes of Mercy, Andrea and Louie who are averse to holding the microphone and happy to step away and listen to their partners perform. An initial encouragement to sing should be done as some might need a fair bit of push to get going. For example, Carlo hesitated initially, but a little nudge did him a favor, and he started to bring out his setlist. However, don't push it too far if they make a few refusals no matter how polite your approach would be. In the end, Mercy was happy to just sit and listen to the performers strut their stuff, and by that, I refer to Maea's song and dance number honoring the late Whitney Houston (I Wanna Dance with Somebody).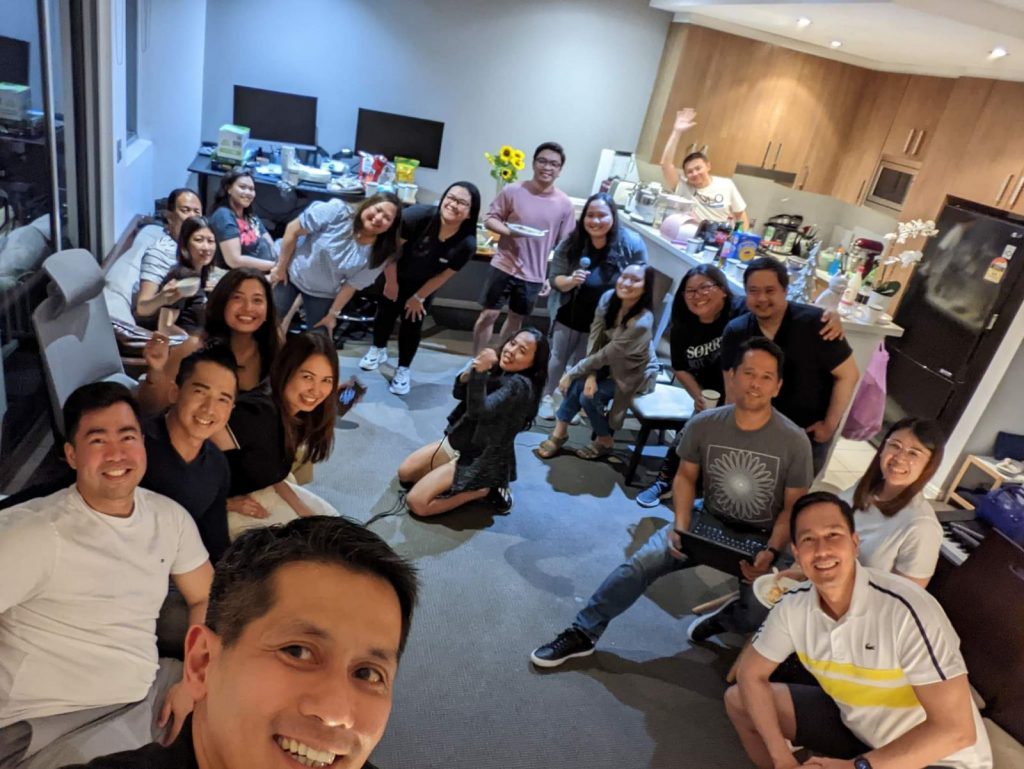 Be mindful to those who distribute drinks
Just because Louie was not in the queue of singers, he was far from being idle. In fact, he was hands-on with food preparation and got a bit too quick in rotating the tequila shots and carrying sliced lemons. The pace was quick that at one instance, Charisse was left holding her lemon wedge too long as the distribution happened while doing her turn to sing.
Tequila was limited to a few of us, as non-drinkers or those behind the wheel like Rea and Rollie maintain a hands-off approach.
Get everyone involved in singing
Contrary to my belief that once Mark gets going, it's hard to keep the microphone away from him. Instead he was cool and calculated, perhaps constantly thinking to himself, "which song should I sing next". Jon and fellow volleyball aficionados were also monitoring the progress of a Super League championship game in the Philippines so I volunteered to take over the control of queuing the songs via Jon's portable computer. Thanks to Rollie's tip on queuing YouTube playlists over Chromecast, everyone's request was accommodated without being overwhelmed by a barrage of requests. I made sure to ask everyone what's their next song:
Mark: Crazy (Gnarls Barkley)
Allen: Mr Brightside (The Killers)
Giselle: Time After Time (Tegan and Sara)
Mary: Sundo (Imago)
Morris: The Man Who Can't Be Moved (The Script)
We're not only singing English (Hamilton's Satisfied and The Chainsmoker's Paris) nor Tagalog (Aegis' Sayang na Sayang and True Faith's Ala-ala). Rollie sang a few Japanese songs, one of which was Southern All Stars' Manatsu No Kajitsu, whose tune coincides with Donna Cruz's Isang Tanong, Isang Sagot. Take a listen.
Meanwhile, Nica did Korean numbers (Blackpink's Forever Young and Byul's I Think I Love You).
After performing Nicki Minaj's Super Bass, with rap and all, Charisse took a step back and, joined by Belle, did not participate in the later stages of the session. Thankfully, a few friends came along as well, like Princess' sister and Jeff, whose song was cut short by my clumsiness on the controls.
Your song choice might send a certain message or bring back memories
We sing a song because we like to do so. But sometimes our song choice might also reflect our mood or how we feel, and its lyrics may carry a meaning that describes our state of being. In many cases, there's no more subtle way of expressing that feeling through a song. I personally choose a song mostly by its catchy melody rather than the relatability of the lyrics. But when someone got distracted for singing a song that brought back memories, I felt songs in general were composed to evoke such feelings of melancholy or remind us of happy memories.
Learn when to call it a night
Just as Nica and Mary left earlier, the building security called the hosts about a noise complaint by a neighbor. Louie already knows who the culprit is. Maybe he or she was looking forward to more Korean songs from Nica? But seriously, as the night wore on, the members of the group gradually retreated into their comfortable corners, content with keeping quiet rather than adding to my queue of songs.
Alas, Semisonic's Closing Time was among the first we sang. Nonetheless, we'll call it a night.
I wish there are more events like this coming up soon.
Comments