Walking around Sydney's idyllic neighborhoods is a pleasing experience.
On a clear, Saturday morning, you'll find yourself blissfully exploring the outdoors while getting a healthy dose of vitamin D.
Firstly, footpaths are heaven-sent. They provide safe and clear passage from one block to another. They protect your footwear from damp grass, a puddle of water, or muddy patch during inclement weather conditions. They are made of concrete so they serve different types of users — bicyclists, pedestrians, joggers, or mothers towing their prams.
There are no barking dogs that terrify pedestrians with cynophobia. Instead, dogs are in leashes and owners usually welcome my quick introduction to their furry pals. Those who freely roam the road are gentle and I never felt any risk of a dog bite.
What I also like about Sydney neighborhoods is that they are generously provided with green space, with parks and reserves littered with facilities such as playgrounds and drinking fountains.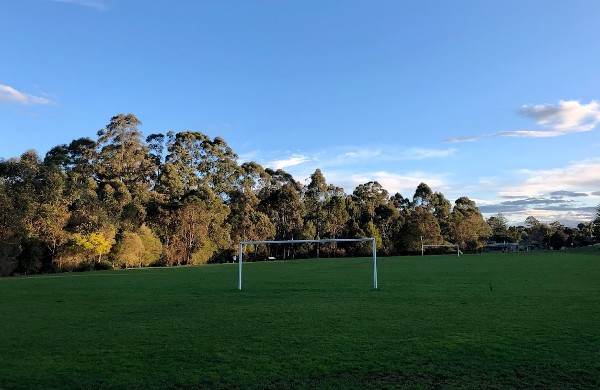 So many roads are named "No Through"
Deeply embedded into the Australian road courtesy system is the way motorists respect the rights of pedestrians. They always receive preferential treatment when crossing the zebra lines on main roads, and a return gesture of raising your hand is enough to convey your appreciation.
Without prior research, the peculiarity of pathways got me thinking. I live next to a "Close" which means there is only one way in and out. This is sometimes composed of a cul-de-sac at the other end. Lanes are usually narrow one-way paths bordered by walls. "Crescent" is a road that forms a semi-circle and whose ends connect to the main thoroughfare. "Parade" is often observed close to public transport system like railway stations and offer wide facilities for pedestrians to use. "Place" is a short, narrow roadway that leads to a dead end. "Steps" are literally a path that consists of steps and is often found on hiking trails.
Thanks to Google Maps, navigating every crevice, nook, and cranny within Sydney neighborhoods is very convenient. With the exception of areas such as trail walk routes whose marks sometimes don't appear on navigation, it's not likely I'll get lost around the area, provided my phone battery is ample, and the network connection is stable.
Sydney's Achilles heel: the transport system
If I have any complaint navigating the suburbs, it's the public transport's reduced frequency that each passenger has to exert maximum effort to make the ride. Otherwise, you'll rethink your options with limited alternative transport available. Thankfully, there are tools like the TripView mobile app that provide real-time information on upcoming train, bus, or ferry schedules. However, despite a clear understanding that a bus arrival is imminent as indicated in the app, a passenger wonders why buses don't show up at the designated bus stop even though the app says so.
And once you get on the bus, sometimes the payment system doesn't work. In Sydney, you are required to tap on and tap off using your Opal card or debit card When you tap your Opal card into the reader, they don't work.
And don't get me started with trackwork that happens more frequently than I hoped for. Track works, in Australian parlance, refers to the suspension of train services to make way for repair and maintenance work. While this sounds acceptable as safety should always come first, it's also carried out at the expense of passengers especially those who are unaware and don't have alternative means. Bus replacements are often available but can at times be limited so the real headache for passengers is the waiting time. If you are paying attention, the public address system on trains addresses passengers as customers, who in this case, receive the bad end of the business transaction.
Industrial actions also complicate the Sydney train operations. I tried to read a few news releases about the genesis of the dispute between rail workers and the government, but I remain clueless despite the leads provided (safety of newly acquired trains).
Exploring the neighborhood
Whether it's a casual walk or a jog around the nearby blocks, one can observe a slice of life of Australian households. At one house, you can find young children playing in the temporary pool their dad built for them during the hot summer season. The owners of the next house are busy beautifying their yard; the wife prunes the flowers while the husband mows the lawn. Over at the next set of units, tradies unpack a fresh load of fresh grass or woodchip to cover common areas in residential blocks. It's not unusual to find couples enjoying their first sip of coffee or students sunbathing while reading a book.
If you are looking for a specific unit to visit, the address system is simple:
For residential blocks, it's usually this pattern: Unit 1/234 Street Name, Suburb Name.
A unit number is followed by a slash and the street number, then the suburb name. Note that the suburb needs to be specified, especially when sending letters (if still practiced) or delivering online orders. That's because it's possible that the unit number, street number, and street name may be shared by two or more suburbs. For example, 211 Waterloo Road is shared by both Marsfield (2122) and Greenacre (2190).
A friend who was returning wedding event equipment was dismayed to find they went to the wrong Kissing Point Road location. They arrived on the same street in South Turramurra and not at the intended destination in Dundas, some 20-minute drive away.
For standalone houses, addresses usually bear the street number and street name plus the suburb.
For some reason, there seems to be a dearth of street names in Australia and a few names keep getting reused. George Street is the most popular (521), followed by William Street (452) and Church Street (400). In my neighborhood, Macquarie is the most common name used, not just in street names, but for a university, a hospital, two metro stations, and a shopping mall. Outside of this neighborhood, you can find another Macquarie station in the south (Macquarie Fields), a bank, a landmark overlooking the Circular Quay, and a lake in the Hunter Region in the north.
Streetside parking is also regulated with signs that indicate the time, day, and length of a parking lot's availability. Friends who come to attend Halloween or Christmas party normally would ask about the availability of parking spaces. While I don't see an acute problem with parking space in my area, being conscious about availability helps plan ahead, and avoid potential penalties for improper use or exceeding the limits.
Into the weekend
Fridays feel like a prelude to weekends, with reduced interaction at workplaces and those who go to offices may prefer to work from home if possible. But the first sign of Friday may be in the form of the humming of the engines of trucks collecting the neighborhood's trash.
Before residents leave their beds, workers commissioned to look after the garbage disposal take the colored bins by the roadside under specific orders: empty the red-lid bins which house garbage destined for landfills. Depending on the scheduled pickup calendar, workers also need to dispose of either yellow-lid bins that contain recyclable paper or cardboard, or green-lid bins which contain garden waste, grass clippings, pruning, and leaves.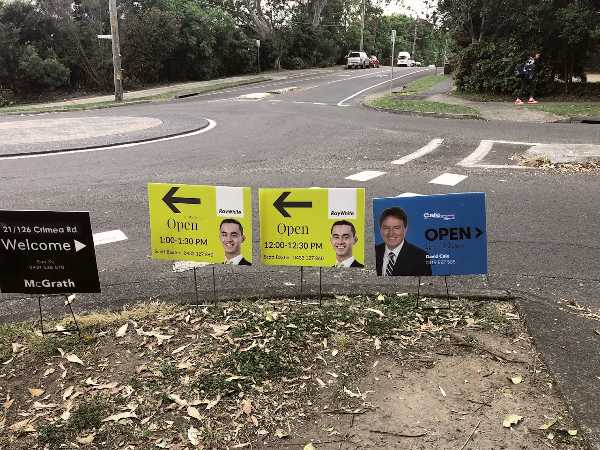 Weekends mark the peak time to inspect a property for sale or lease. Property agents usually post listings of properties on a website, then on the eve of inspection or auction day, they lay markers on streets indicating the property address and direction. For good measure, agents have managed to morph into celebrity/politician appeal as they vie for clients to let them handle their property transactions. On Rhodes railway station, billboards with large photos of real estate agents greet passengers, advertising their services while claiming as number one agent in the area.
Before the COVID pandemic, neighborhood associations set up barbeque stations at a nearby park to welcome new residents. I felt that it was a nice way to integrate into the community, learn about the available services, where are the facilities, and how to seek help. So far, it hasn't resumed yet as far as I am aware.
As I explore nearby neighborhoods in my random walks or runs with Livvie, I might learn a thing or two to add here.
Comments