I observed that when traveling by train in many other European cities, it is crucial to be aware of certain things that may easily be overlooked or ignored by many.
Departure and Arrival signs are sometimes displayed separately.
When looking for your next trip displayed on large screens in train stations, be quick to ensure that you're looking at the correct display. Arrival displays are often separated from departures and destinations can be origin stations. For those who don't read Italian, French, or German, don't worry. English translation of these signs is most likely available.
Look for train numbers
Using train numbers found on tickets as a reference when looking up for departing trains is more accurate than destinations. The destination may be the last stop of the train and not those in between. For example, a passenger from Milano may display Salerno as a previous stop but not stations in between such as Firenze or Roma. So the train number becomes a more reliable point of reference.
Validate tickets
Ticket validation is needed when usage is limited for a particular time. Most of the cards do not need to be validated, especially those that are valid for specific times and trains, but those that have no fixed travel times may require such validation. One example is Roma's Leonardo Express, which connects Roma Termini railway station and Fiumicino airport. You can buy it on the platform or at the vending machines inside the railway station and can be used anytime. But remember that before using it, validate these tickets at the small green machines found in Termini's track 24 where you can ride the train to the airport.
Be on time
. It's a given that trains arrive and depart promptly. But I noticed that stopovers allow only a few minutes for arriving passengers to disembark and departing passengers to get on board. That means even before a train comes from its previous stop, locate the gate and train number so you'll be able to position yourself and your luggage closer to the train, especially on large train stations like Zurich Hauptbahnhof or Roma Termini.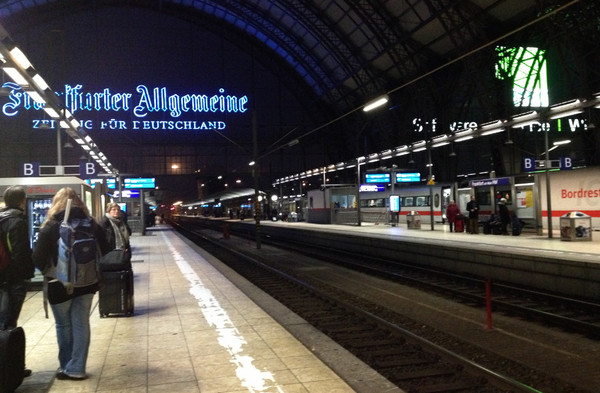 Reserve seats for peak hour trips
We experienced first-class booking seats from Munich to Salzburg but ended up sitting on our luggage in front of the staff desk since our seats since seats were reserved and taken by other passengers. Booking tickets entitle passengers the right to board the carriage, as explained by a RailJet ticket checker, but not necessarily the seats if other passengers have reserved them. Upon realizing the importance of seat reservations, which cost 4 euro per passenger, we booked the remaining legs of our ride in Austria's RailJet. It turned out that there were plenty of seats available, and seat reservation was unnecessary. Therefore, I think the rule of thumb is to reserve seats during peak hours, and during travel seasons.
Orientation on seats
When reserving seats, you can choose what seat layout you can choose, especially those with the company. You can sit together, face each other, or have the option of the table in between, depending on carriage and availability. One thing that I found hard to predict is the direction of the seats. Train seats of opposing courses are available on every transport, and trains can travel forward and backward. So I guess people who are not comfortable facing rearward may need to talk to customer support at railway stations to ensure they get the right seat orientation.
Placement of large luggage
Just like in the airplane, there are also spaces available at the overhead compartment for smaller hand-carry bags. But since there is no check-in luggage when taking the railway, you'll also have to bring your large bags with you in the cabin. In between every opposing seat is a space for your large luggage, so they'll be within your reach. If these spaces are filled up, there are compartments at the end of the train.