Towards the end of the year, around Thanksgiving and Black Friday deals that send the online marketplace abuzz, the streaming world is literally buzzing with every Spotify subscriber's yearly musical wrap-up.
In the era of cassette tapes, you won't keep track of how many times you have played that Jagged Little Pill album. But thanks to the digitalization of streaming music, Spotify's Wrapped campaign would be able to summarize which songs you played the most or derive what musical personality you have, among others.
Once their personalized summaries have been made available, music lovers eagerly share screenshots on social media.
Many of us are keen to share our musical tastes with everyone, maybe to establish our identity. Does punk rock mean you are rebellious or classical music finesse? Perhaps our choice of music will reveal that personality. Also, sharing our summaries attempts to connect us with like-minded people. As such it may be easier to figure out who to invite once Red Hot Chili Peppers or Beyonce is in town for a concert.
We are proud to share it probably because it's a year's (more accurately, from January to October) worth of our feelings and emotions packaged and translated into the songs we often play.
Behind the glamorous stats wrapped in colorful ready-to-share slides are user data you and I grant consent to Spotify to convert into such helpful information. Consent is implicitly expressed once we share the data-driven Wrapped screenshots.
But even as more companies come under fire for tracking and storing user data, Spotify largely managed to avoid criticism since the concept was launched in 2015. There are numerous instances user data was compromised. Optus data breach and Medibank's data hostage incidents manifest that our information kept by large corporations is not completely secure. Once they fall into unscrupulous hands, we might soon receive birthday offers, personalized letters in the mailbox, or worse, become a victim of identity theft.
Users shared Spotify's Wrapped slides were shared 60 million times in 2021, and that figure does not include screenshots, a common way people post Wrapped content on social media.
In 2022, Spotify further went deep dive and developed an algorithm to determine which one of 16 distinct listening personalities a user belongs to. This includes the likelihood to discover and adopt new music, or the tendency to stick with a genre or age of music they play.
Yet, as much as Spotify makes an accurate count of how many times your song was played, and which genres you like, they may not necessarily represent the choices of all users. Many parents who use their accounts to play children's music for their kids resulted in a skewed view of their Spotify wrapup.
Why do we like to share music with others?
An easy conversation starter when meeting new people is music. Politics is too divisive and can get heated too quickly, and religion can be a sensitive issue, but music is said to be mankind's universal language, at least according to Henry Wadsworth.
So when you are at a party and want to interact with a newly introduced acquaintance, asking about your favorite music, and artists, which concerts you went to, or which ones belong to your workout playlist seems like a good bet to start a meaningful conversation.
Knowing one's musical preference apparently helps us know him or her more.
A study by Peter Rentfrow, and Sam Gosling published in Psychological Science in 2006 found that college students getting to know each other over the Internet are more likely to ask about music preferences than about all other categories of conversation topics combined.
A separate study conducted by Diana Boer et al in the September 2011 issue of Personality and Social Psychology Bulletin disclosed that when we find out that someone shares our musical interests, that increases how much we like them.
In 2020, just as the pandemic was taking over the world, our choir group shared a collection of YouTube videos of familiar artists I'd spend time binging on TV alone. In 2021, as we aligned during work from home, the People Team at our office set up groups of like-minded people (baking, gardening, and so on) via Teams chat. It also included folks who are into music and helped me connect with colleagues across other teams who share the same passion and interest in music.
Interaction with Rahul Sengupta and Jessica Chen proved that I am conservative and happy to stick to listening to songs played on repeat. For each of the past two years (2021, 2022) Spotify listening data revealed that I had the same music at the top of the leaderboard: Cool for a Second by Yumi Zouma.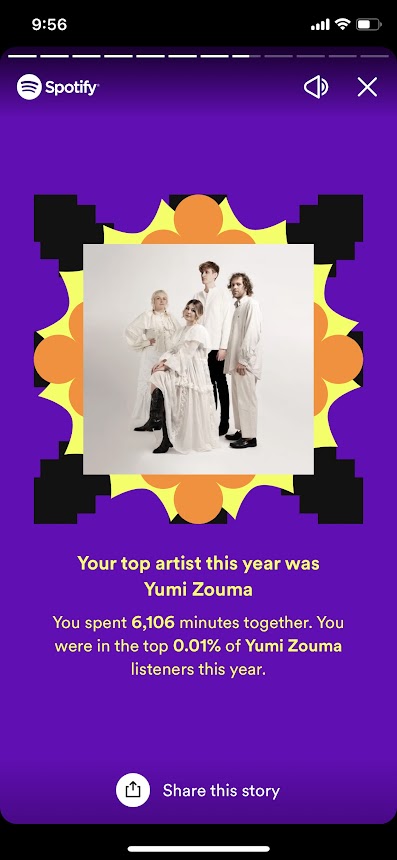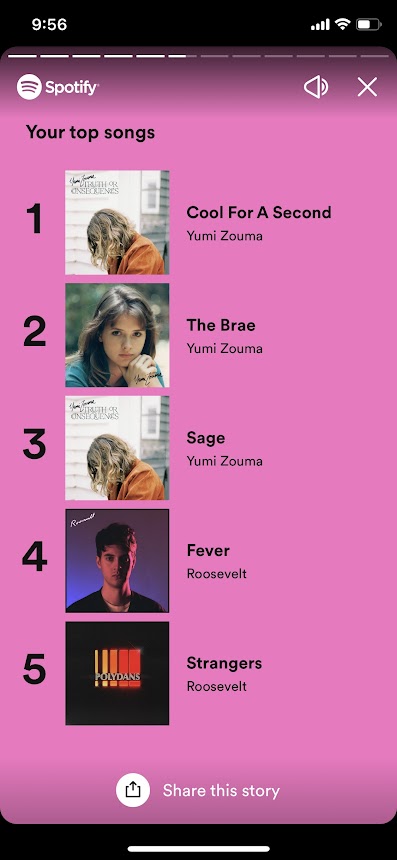 Being alone most of the time Spotify became my most connected app. In fact, Spotify's Wrapped data indicated that I belong to the top 3 percentile of listeners in Australia who listen the most to the music app. That's a total of 93,322 minutes in 2022, or roughly equivalent to 5.11 hours per day.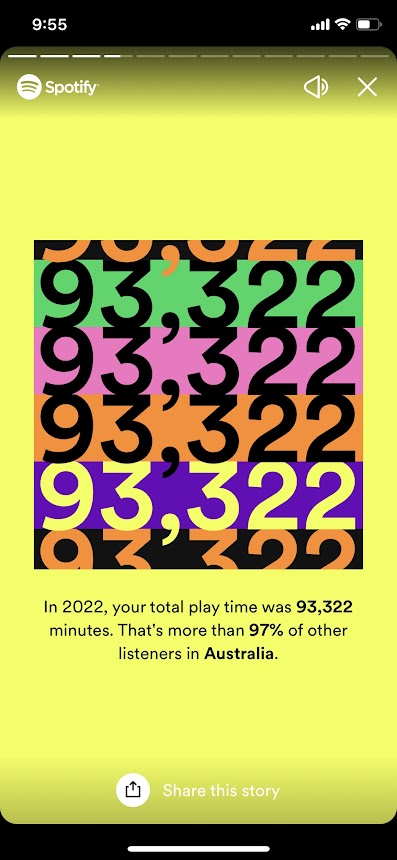 That's the time spent commuting to work, doing errands at home, and outdoor time walking, running, or hiking as I listen to my preferred playlists of songs or daily podcast episodes.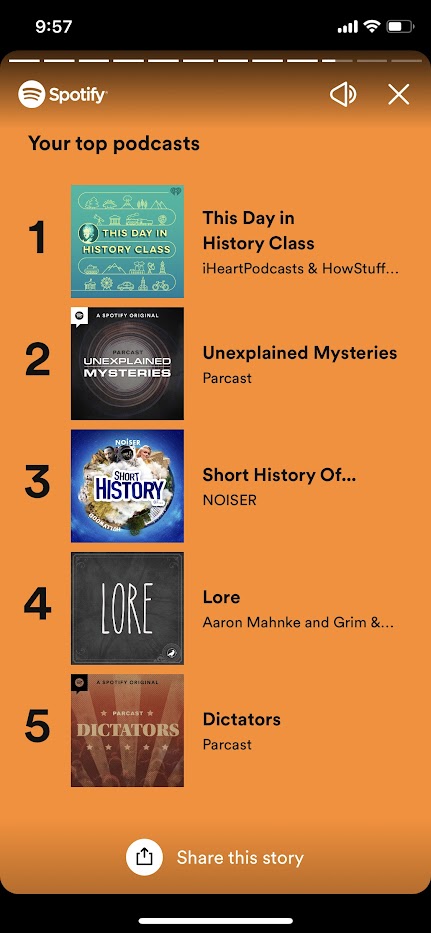 If not for Scribd which is my go-to app for audiobooks, it won't be difficult to spend a quarter of my day listening to Spotify.
Comments